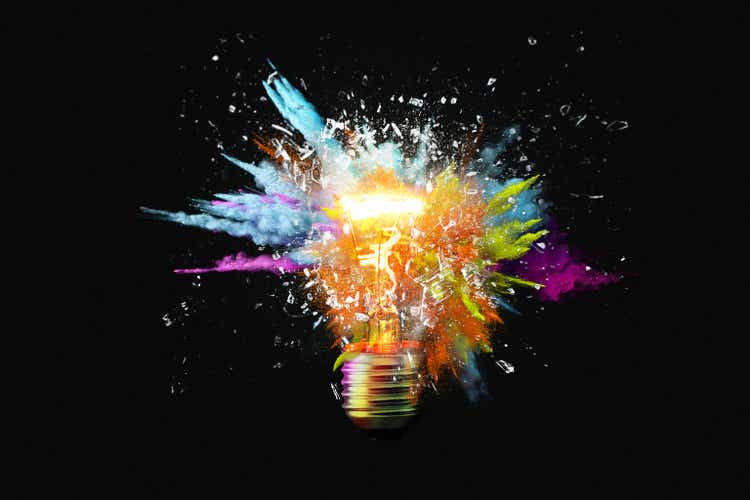 It's a story we've heard before, but the charade is finally up. Stocks like Palantir Technologies Inc. (NYSE:PLTR) have been spinning a yarn of excitement and potential, but it's time to face the music. This stock, much like a deflating balloon twisted into elaborate shapes, saw its momentum build and build. All the while, analysts and investors were cheering it on, forks in hand ready to toast to success.
We placed our bets twice this year, and boy did we rake it in. We let that house position grow, and it seemed like the party would never end. But let's be real here- it's time to call it a night. The glittering lights of Palantir Technologies stock may have dazzled us, but we're crashing back to reality. The resistance in the 20-22 range is simply an insurmountable barrier for the growth that's on offer. This is the part where we close the curtains and take a bow- it's time to cash out and head home.
Let's all lock in our gains at $20 a share and leave just a tiny piece for old times' sake. It's a tale as old as time – rolling our gains into our long-term holdings for that sweet, sweet wealth creation. The show might be over here, but there are other opportunities waiting in the wings, ready to take center stage and dance in the spotlight.
Palantir's Growth: A Stalling Performance Amid a Frenzy of Competition
Let's not kid ourselves – the third quarter earnings might have been strong, but the dizziness of growth is starting to wane. Palantir is saturating the market, and the room for expansion is shrinking. Innovative competitors are knocking at the door, offering their own brand of magic to entice businesses and governments. As our dear old friend Shakespeare once said, "all that glitters is not gold". Yes, we believe in Palantir in the long run, but the shine is wearing off in the short term. It's time to cash in those chips and make a swift exit.
Sure, we saw a modest 16% year-over-year revenue growth, beating some estimates, and profitability was slightly better than expected. But with every step forward Palantir took, it was met with a head-on collision of resistance. The trend in earnings might be ticking upwards, but the path to breaking through is clouded with doubt.
The commercial segment is getting a quick bump, thanks to the demand for Palantir's Artificial Intelligence Platform (AIP). Remember the days when we whispered about Palantir's AI prowess in hushed tones? Well, it's time to speak up- it's getting a little too crowded in here, and the party's losing its appeal. The commercial sector might be enjoying a short-term high, but the government results have been up and down like a rollercoaster ride. We have concerns about the backlog, and the company's heavy investment in increasing sales might not pay off as handsomely as we had hoped.
The deceleration of revenue growth and customer count has thrown a spanner in the works. The pace Palantir set for itself is slowing down, and that shiny allure is flickering. The once-rapid growth is now a mere flicker, and it's time to acknowledge that the spotlight might be dimming. It's crucial for the stock to keep moving towards profitability, or the market will turn a cold shoulder on customers and revenues growth promises.
Let's not deny it- this is a solid performance. At $8-$9, we'd be tripping over ourselves to get in on it. But the price now is more than double that, and justification is more than a tough nut to crack. The wild pace of growth has lost its charm, and now the market's applause is fading.
Positive Signals Can't Drown Out the Cacophony of Challenges
Yes, there are some positives- the cash flow growth, earnings positivity, improved margins, and commercial growth did try to steal the limelight. But amidst these cheers, there's a deafening silence of challenges. The valuation is like a stubborn stain, charting resistances and creating an unrelenting uphill climb. It's time to face the music and admit that Palantir's stock is swaying in turbulent winds, threatening to topple at any moment.
The Final Curtain Call for Palantir Investors
As the final act draws near, the bullish notes of cash flow and positive margins are drowned out by the cacophony of challenges. It's time to break down the set, pack up, and leave while the last vestiges of profit beckon us. We had our fun, but it's time to acknowledge the signs of a dying crescendo. It's time to bow out gracefully and let the rest run as a house position. For today, dear Palantir, the party is over.