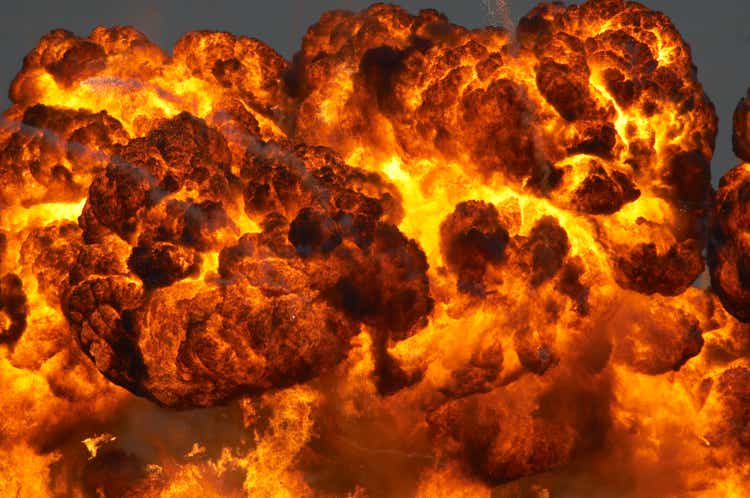 PIMCO Dynamic Income Fund (NYSE:PDI) is a closed-end mutual fund, or CEF, that seeks to provide investors with a high level of current income and the potential for capital appreciation. The fund is actively managed by portfolio managers Joshua Anderson and Alfred T. Murata, who we have great respect for. The PDI product offers significant income, but those who have bought previously have seen, on paper, capital depreciation. We were looking for a buy around $16, and with the chaos seen in many income names the last few weeks, the shares are in our opinion on sale.
The fund has some interesting holdings in its top 10, and that has led to some uncertainty, but after the most recent decline in shares down to $15.67, you can now buy and collect a 16.4% yield. Assuming the dividend is paid at the same level over time, no cuts or raises, along with the level of special dividend being maintained, an investor can get their entire investment back in dividends in 6 years at current rates. Shares are unlikely to depreciate greatly, so even if there are some on paper losses in the near future, the payouts mean you will be guaranteed to be even in a few years.
Make no mistake, income stocks have been crushed, but this is a name we were waiting for $16, and now we are below that level. For the long-term investor, now is the time to buy in our opinion.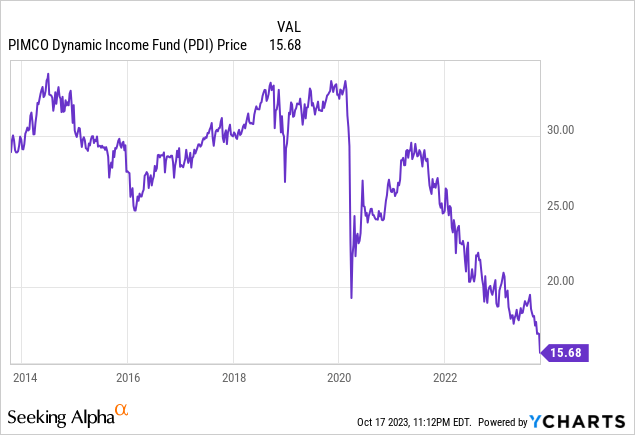 Discussion
Let's be honest. That PDI chart is disgusting. If it was not for management and the shifting of holdings for income, we would likely be short! If this chart was one of a stock, we would be pretty bearish. However, the payout is simply so good, even if it were to be cut, PDI is just an income machine. While countless other investors have lost money on paper, we are picking up their slack.
We now are wanting to come into the fund. Enough is enough here. While you can earn 5% in a bond or money market with no risk, but taking on some risk, you can collect over 3 times that with PDI. We like PDI as it invests in a diversified portfolio of fixed income securities, including government and corporate bonds, mortgage-backed securities, asset-backed securities, and other debt instruments. The fund also has the flexibility to invest across various fixed income sectors, which allows the aforementioned fund managers to seek opportunities in different parts of the bond market.
Now, the price of PDI has dropped in recent weeks with a surge in rates. To us, this is opportunity, despite expected short-term pressure. It is down due to fear over the leverage, as management uses leverage to enhance potential returns. This means that the fund borrows money to invest in additional securities, and the borrowing rates are only getting more expensive. The fear is further that it will hurt income. PDI is over 40% levered on its net asset value benchmarks, and is mostly doing so through reverse repos. That said, we like the port and the ability to shift it.
As of the end of the last reporting period, PDI's portfolio was allocated to 70% U.S. investments, 5% in the UK, and the remaining in emerging markets, while 25% of the securities are invested in non-agency backed mortgages instruments. While the company does have nearly 1900 holdings, here is the look at the top 10 as of 2 week ago: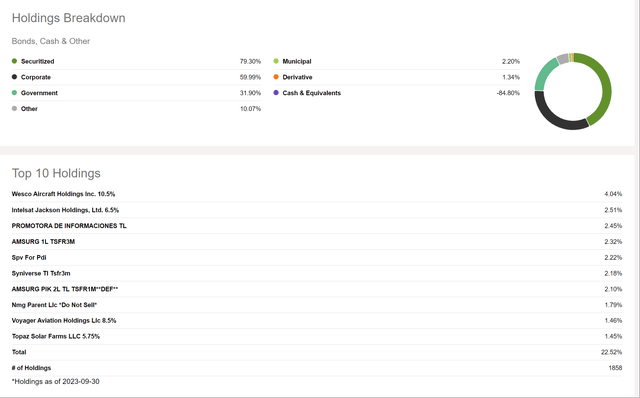 So the holdings are many and diverse, but you get an idea of the major holdings above. Generally speaking, the company is invested in debt obligations and other income-producing securities. We did mention the mortgage-backed securities, but they also invest heavily in investment grade, and high-yield corporate dent, as well as in both developed and emerging markets' corporate and sovereign bonds. As of the end of the last reporting period the company had $4.7 billion in assets.
So why is PDI fund getting crushed? It is all about the surge in rates, folks. You see, it is not just the so-called competition from bonds/ savings accounts/ money markets. There is certainly some fixed income competition happening, but the surge in rates has crushed a ton of income names. While some may have been telling you to buy for many months, we had been hesitant, saving you capital depreciation pain, even if it is on paper. Now we see the fund as a buy, as the income is just too good.
But, the current economic environment is certainly a headwind for PDI's underlying assets. This is because PDI has an average portfolio maturity ranging from zero to eight years. With the rapid surge in rates (and, of course, the decline in the principal), the pressure is on the holdings, and as such, the value of the fund. At this point however we have very little concern over the bountiful payout. The investments made by the fund pay big time, which is why you get a bountiful monthly dividend and special dividends over time. Hold your nose and buy this for income.
Why? Despite the carnage, PDI has a long history of providing its investors with very high level of income. Folks, this is not going to change, and with the sale happening, you need to take advantage. Scale into the fund in $0.50 increments from here. The investment will pay off. Readers, keep in mind that the fund has paid a monthly dividend for over 20 years now, and as we mentioned, it has also paid special dividends. The 16.4% payout is simply a very attractive yield, over 3 times that of most fixed income options. Of course, there is risk.
But folks, do your due diligence. This is a quick pick for income, and one that we have looked at more in depth at our investing group, but the fact is that PDI is a very complex fund. It really is important to understand the risks involved before investing. First there is PDI's use of leverage, which can and does amplify gains, but can also magnify near-term losses. PDI is very sensitive to changes in interest rates and other market conditions than a non-leveraged fund, and given the spike in rates, you have seen the value of the fund plummet to these buyable levels in the $15 range. Further this is a closed-end fund and, given the supply and demand for buying the shares, may trade at a premium or discount to the fund's net asset value. Right now, it is on sale. There is also credit risk because PDI invests in a variety of fixed income securities, including some that are issued by lower-credit quality borrowers, so there is risk of default.
With that said, we think that PDI is a good option for further research and for investors who are looking for a high level of income. There is risk, and you have to be ok with the leverage, interest rate sensitivity, and credit risk, but the fund makes big money. You can see shares go to a penny in 6 years, but as long as the dividends keep getting paid (they should) you will make your entire investment back in dividends in just 6 years. Everything after that is simply gravy.
Your voice matters
So what do you think? Are you a reluctant shareholder? Have you been buying for months, or will this be your first purchase. Have something else to recommend? Let the community know below.