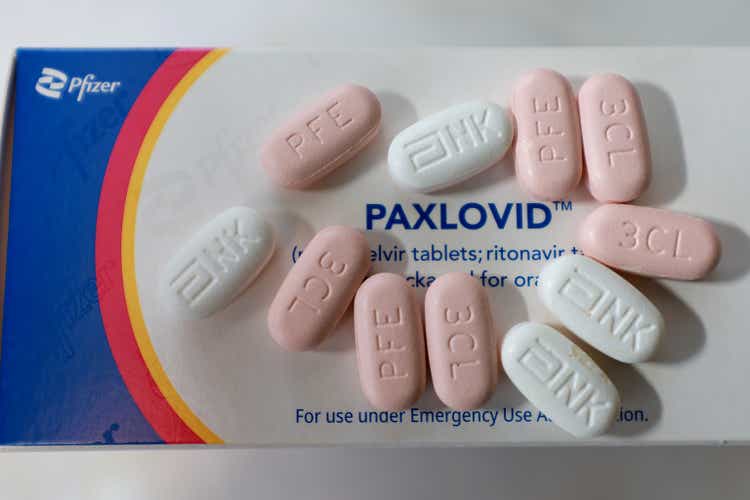 Exciting news for the ongoing battle against COVID-19 as treatments developed by Pfizer (NYSE:PFE) and Merck (NYSE:MRK) are scheduled for commercial market release on November 1st, according to a recent report.
Previously, Pfizer's Paxlovid and Merck's Lagevrio were exclusively distributed by the US government alongside COVID-19 vaccines. However, starting from November 1st, these drugs will be available through traditional distribution channels, according to Reuters.
The US Department of Health and Human Services confirmed that the cost increase won't be immediately felt as most individuals will still be able to access the drugs from the government's stockpile at little or no cost. Providers will also have the opportunity to order government-supplied Paxlovid until December 15th, and Lagevrio until November 10th.
Pfizer has announced that Paxlovid will be priced at $1,390 per course, a significant increase compared to the $529 price paid by the US government for the drug.
More about Merck, Pfizer, and their COVID-19 Treatments
By moving Pfizer's Paxlovid and Merck's Lagevrio to the commercial market, these pharmaceutical companies aim to increase accessibility and availability for individuals in need of effective COVID-19 treatments. This move not only signifies a redirection away from solely relying on government distribution but also presents an opportunity for these companies to maximize their revenues.
Pfizer's Paxlovid, an oral antiviral medication, has shown promising results in reducing hospitalization and death rates among COVID-19 patients when administered early in the course of the disease. The drug received emergency use authorization from the FDA in November 2021, making it a crucial player in the fight against COVID-19.
On the other hand, Merck's Lagevrio, a similarly positioned oral antiviral drug, has also demonstrated its efficacy in treating COVID-19 patients. Lagevrio received authorization from the FDA in October 2021, providing healthcare providers with an additional treatment option to combat the virus.
Both Pfizer and Merck have proven their commitment to battling the COVID-19 pandemic through their vaccine development efforts. Pfizer's vaccine, developed in partnership with BioNTech, was the first to receive emergency use authorization by the FDA in December 2020. Similarly, Merck, in collaboration with Ridgeback Biotherapeutics, has been working diligently to develop a COVID-19 treatment pill.
The decision to transition these COVID-19 drugs to the commercial market is a significant step towards normalizing their distribution. By making them available through traditional distribution channels, Pfizer and Merck aim to streamline access, ensuring that individuals who require these treatments can obtain them more conveniently.
While the cost of these drugs may pose a concern, especially with Pfizer's Paxlovid pricing at $1,390 per course, it is important to consider the potential benefits they offer in terms of reducing hospitalizations and preventing severe illness among COVID-19 patients. The affordability of these treatments is a crucial aspect that needs to be addressed to ensure accessibility for all individuals, regardless of their financial situations.
As the world continues to combat the COVID-19 pandemic, the availability of effective treatments plays a vital role in saving lives and mitigating the impact of the virus. Pfizer's Paxlovid and Merck's Lagevrio entering the commercial market signify an important milestone in the ongoing fight against COVID-19, providing individuals with more options for treatment and recovery.
In conclusion, the commercial market release of Pfizer's Paxlovid and Merck's Lagevrio on November 1st marks a significant step forward in the battle against COVID-19. Moving away from relying solely on government distribution, these drugs will be more accessible and readily available to individuals in need. While the cost of these treatments remains a concern, their potential in reducing hospitalizations and severe illness cannot be ignored. It is crucial for pharmaceutical companies and policymakers to work together to ensure the affordability and accessibility of these life-saving treatments for all individuals.