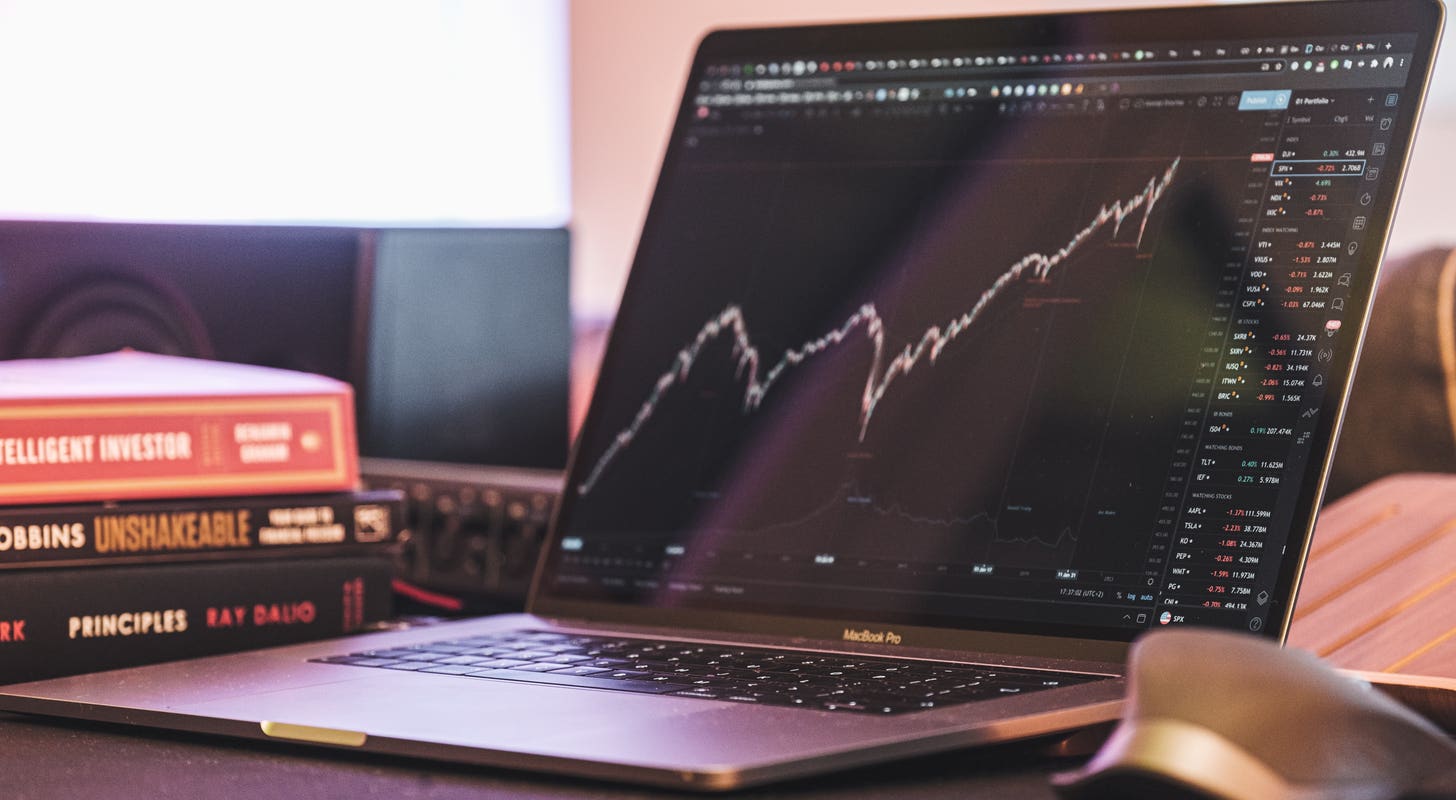 To gain an edge, this is what you need to know today.
Positive Treasury News
Please click here for a chart of SPDR S&P 500 ETF Trust (SPY), which represents the benchmark stock market index S&P 500 (SPX).
Note the following:
The chart is a monthly chart to give you a long-term perspective.
The chart shows that the stock market has just finished a three consecutive month losing streak.
The chart shows this is the longest losing streak since the pandemic.
As the stock market enters November, it is rare to have four consecutive losing months.
The chart shows that the last time a four consecutive month drop occurred, it was in 2011. Long-time members of The Arora Report may recall that in 2011, The Arora Report produced large positive returns when most services and banks lost money.
On the positive side, there have only been five prior times when the stock market went down in August, September, and October. These five times were in 2016, 1990, 1977, 1957, and 1952. In each of these five times, the stock market went up in November.
The chart shows RSI divergence, which is a technical negative from a longer-term perspective.
Yesterday, we wrote:
In The Arora Report analysis, the Treasury issuance statement is of utmost importance to stock investors. If yields rise further on long-term bonds, this will be a negative for the stock market. On the other hand, if yields fall, it will be a positive for the stock market.
In The Arora Report analysis, Treasury issuance announcement is more important for investors than the Fed decision.
Here are the details of the Treasury announcement:

"The U.S. Department of the Treasury is offering $112 billion of Treasury securities to refund approximately $102.2 billion of privately-held Treasury notes maturing on November 15, 2023. This issuance will raise new cash from private investors of approximately $9.8 billion. The securities are: A 3-year note in the amount of $48 billion, maturing November 15, 2026; A 10-year note in the amount of $40 billion, maturing November 15, 2033; and A 30-year bond in the amount of $24 billion, maturing November 15, 2053."

In The Arora Report analysis, the details of the announcement are better than expectations, which is bringing in buyers in the stock market in early trade.
Today is Fed day. The Fed will announce its decision at 2pm ET, followed by Powell's press conference at 2:30pm ET.
Automatic Data Processing Inc (ADP) Employment Change came at 113K vs. 100K consensus, indicating that the jobs picture continues to stay strong.
Prudent investors should take note of the foolishness that the momo crowd often exhibits. WeWork Inc (WE), once valued over $47B due to excitement by venture capitalists and the momo crowd, is filing for bankruptcy. WE stock once valued over $500 has fallen to $1.37 as of this writing in the premarket.
In yesterday's Afternoon Capsule, we wrote:
Advanced Micro Devices, Inc. (AMD) reports earnings after hours today. AMD earnings are particularly important as they can impact market sentiment due to AMD's popularity among retail investors.
AMD reported earnings worse than expected, but investors are buying the stock anyway on excitement about its AI chip.
Starting today, Microsoft Corp (MSFT) is selling its AI Copilot to enterprises for $30 per month. The expectations are that 7M people will be using Copilot by the end of 2024. Considering that there are 300M paid Microsoft users, investors are excited about the potential of AI Copilot.
This is the first day of the month. On the first two days of the month, blind money flows into the stock market. Blind money is the money that flows into the stock market without any analysis and irrespective of market conditions. This morning, Wall Street is front running blind money and buying stocks to sell to blind money at a profit later in the day.
As an actionable item, the sum total of the foregoing is in the protection band, which strikes the optimum balance between various crosscurrents. Please scroll down to see the protection band.
Bank Of Japan
We have been sharing with you the importance of Bank of Japan (BOJ) actions to the U.S. stock market. BOJ unexpectedly stepped into the bond market to intervene against speculators. The 10-year JGB touched 0.97%, reaching a new high in a decade.
Magnificent Seven Money Flows
In the early trade, money flows are positive in Apple Inc (AAPL), Amazon.com, Inc. (AMZN), Alphabet Inc Class C (GOOG), Meta Platforms Inc (META), Microsoft Corp, and Tesla Inc (TSLA).
In the early trade, money flows are negative in NVIDIA Corp (NVDA).
In the early trade, money flows are mixed in SPDR S&P 500 ETF Trust (SPY) and Invesco QQQ Trust Series 1 (QQQ).
Momo Crowd And Smart Money In Stocks
The momo crowd is buying stocks in the early trade. Smart money is locked in the early trade.
To see the locked content, please click here to start a free trial.
Gold
The momo crowd is selling gold in the early trade. Smart money is locked in the early trade.
For longer-term, please see gold and silver ratings.
The most popular ETF for gold is SPDR Gold Trust (GLD). The most popular ETF for silver is iShares Silver Trust (SLV).
Oil
API crude inventories came at a build of 1.347M barrels vs. a consensus of a draw of 1.601M barrels.
The momo crowd is buying oil in the early trade. Smart money is locked in the early trade.
For longer-term, please see oil ratings.
The most popular ETF for oil is United States Oil ETF (USO).
Bitcoin
Bitcoin (BTC/USD) continues to be range bound.
Markets
Our very, very short-term early stock market indicator is locked. This indicator, with a great track record, is popular among long-term investors to stay in tune with the market and among short-term traders to independently undertake quick trades.
Protection Band And What To Do Now
It is important for investors to look ahead and not in the rearview mirror.
Consider continuing to hold good, very long-term existing positions. Based on individual risk preference, consider holding cash or Treasury bills or allocated to short-term tactical trades. Set short to medium-term hedges and short-term hedges. This is a good way to protect yourself and participate in the upside at the same time.
You can determine your protection bands by adding cash to hedges. The high band of the protection is appropriate for conservative investors, while the low band is appropriate for aggressive investors. If you do not hedge, the total cash level should be more than stated above but significantly less than cash plus hedges.
It is worth reminding that you cannot take advantage of new upcoming opportunities if you are not holding enough cash. When adjusting hedge levels, consider adjusting partial stop quantities for stock positions, using wider stops on remaining quantities, and allowing more room for high beta stocks.
Traditional 60/40 Portfolio
Probability-based risk reward adjusted for inflation does not favor long duration strategic bond allocation at this time.
Those who want to stick to a traditional 60% allocation to stocks and 40% to bonds may consider focusing on only high-quality bonds and bonds with a duration of five years or less. Those willing to bring sophistication to their investing may consider using bond ETFs as tactical positions and not strategic positions at this time.
The Arora Report is known for its accurate calls. The Arora Report correctly called the 2008 financial crash, the start of a mega bull market in 2009, the COVID crash, the post-COVID bull market, and the 2022 bear market. Please click here to sign up for a free forever Generate Wealth Newsletter.