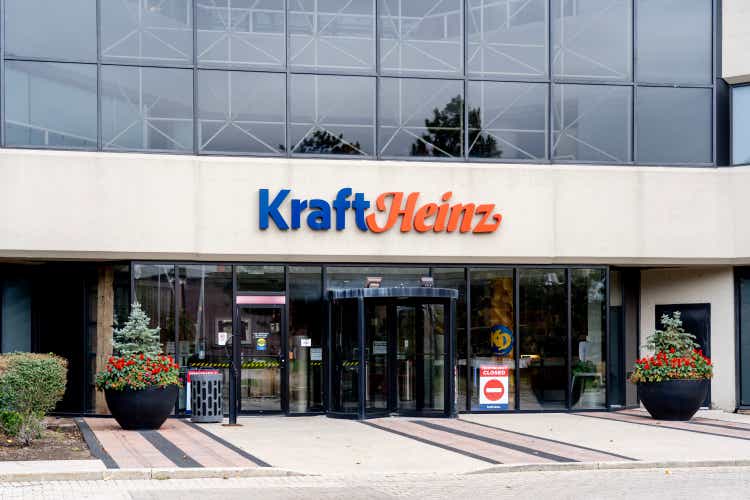 Bernstein's positive outlook on the food sector surfaced with the recent upgrades for Kraft Heinz (NASDAQ:KHC) and J.M. Smucker (NYSE:SJM). Analyst Alexia Howard's assessment diverges from the prevailing negative narrative on the sector, attributed to deteriorating elasticities and potential impacts from GLP-1 drugs. She emphasized that the turmoil has resulted in the sector's worst performance in over two decades, with a 21% year-to-date decline (stemming purely from multiple compression).
Bernstein's upgrade for Kraft Heinz (KHC) elevated its rating to Outperform from Market Perform, setting a price target of $40. The rationale behind this shift is the notably cheap valuation of KHC, its favorable relative positioning in a GLP-1 influenced environment owing to its protein-centric portfolio in the U.S., and an enhanced business model implemented under the outgoing CEO. Howard advised, "With its multiple at an all-time low and a portfolio that is better positioned relative to peers in a GLP-1 world, we see the risk-reward as attractive over the next 12 months."
Conversely, the firm upgraded J.M. Smucker (SJM) from Underperform to Market Perform, with a price target of $119, primarily driven by its inexpensive valuation and a balanced risk-reward profile for investors. While SJM's portfolio seems relatively immune to GLP-1 concerns, its exposure has escalated following the Hostess acquisition, which has exhibited worsening volume trends in recent months. Howard updated, "This was a poorly timed acquisition that is likely value destructive for investors but is likely reflected in today's current stock price."
The Seeking Alpha Quant Ratings for Kraft Heinz (KHC) and J.M. Smucker (SJM) both stand at Hold.
Following the upgrades, shares of Kraft Heinz (KHC) rallied by 1.75% in premarket trading on Tuesday, while J.M. Smucker (SJM) advanced by 0.50%.