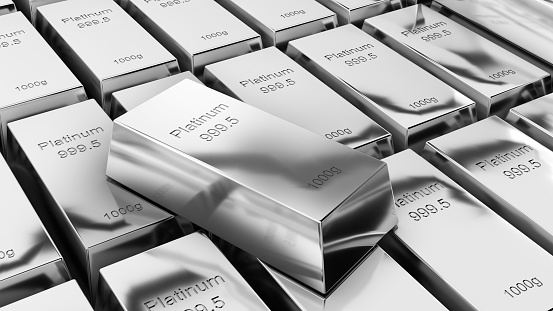 In December 2022, I published an analysis on platinum and the abrdn Physical Platinum Shares ETF (NYSEARCA:PPLT) on Seeking Alpha. At the time, platinum futures were at $1,053, and PPLT was trading at $96.24. Ten months later, platinum futures had fallen 8% to $968.70, and PPLT declined 7.9% to $88.68 per share.
Platinum, a rare precious and industrial metal, has been a disappointing investment. While silver, gold, and palladium have experienced price increases, platinum remains below $1,000. However, its low price reflects its poor performance.
Platinum prices struggle to rise above $1,000
Platinum futures reached a high of $1,290.60 per ounce in February 2021 but failed to maintain further gains. The monthly chart shows a bearish pattern with lower highs since then.
In 2022, platinum traded in a range of $893.60 to $1,290.60. In 2023, it has oscillated between $884 and $1,129.80, struggling to sustain rallies above $1,000.
Platinum is rarer and cheaper than gold
In 2022, total platinum mine production was 6.1 million ounces, compared to gold's 100 million ounces. Despite its rarity, platinum has not commanded a premium over gold since 2014.
The geopolitical landscape poses a potential threat to platinum supplies, as the BRICS bloc dominates production. China, the leading platinum consumer, relies on BRICS output, and ongoing tensions may disrupt supply chains.
A deficit in supply does not guarantee price appreciation
The platinum market has shifted from a surplus in 2022 to a deficit in 2023 due to rising investment and industrial demand. However, economic concerns and rising interest rates have prevented a significant rally in platinum prices.
Production from BRICS countries may cause supply shortages
The majority of platinum mine supplies come from South Africa and Russia. The ongoing conflict in Ukraine and geopolitical tensions could further threaten the global supply of platinum.
Consider PPLT as an investment opportunity
The Aberdeen Physical Platinum ETF (PPLT) is an attractive option for investors interested in platinum. PPLT owns physical platinum bullion and offers exposure to the platinum market without the challenges of holding physical metal.
While platinum has been a lackluster investment in recent years, its potential for future price appreciation, along with supply fundamentals and geopolitical factors, may make it an appealing long-term investment opportunity.