The financial markets of 2023 have been nothing short of a rollercoaster ride. The S&P 500 (SPY)(VOO) has seen an impressive 18.64% year-to-date increase, painting a picture of success on the surface. But delve deeper, and you'll find a tale of two market segments that tells a different story.
Tech giants like Apple (AAPL), Nvidia (NVDA), Tesla (TSLA), Meta (META), Alphabet (GOOG) (GOOGL), Microsoft (MSFT), and Amazon (AMZN) have soared to new heights, propelling the Nasdaq (QQQ) to even greater dominance.
On the flip side, defensive and interest rate-sensitive securities, especially in the utilities (XLU), real estate (VNQ), and bond (BND) sectors, have struggled. Smaller cap stocks (IWM) have also lagged behind the broader market.
This divergence in market performance raises questions about the forces at play. Why have dividend ETF investors (SCHD)(VYM) endured such a challenging year?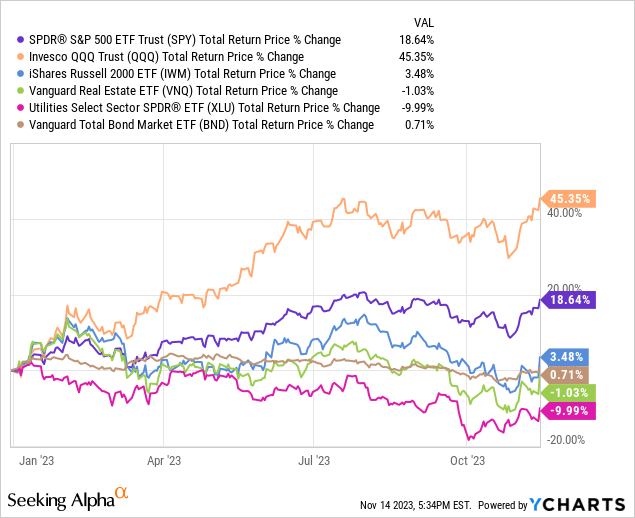 Understanding this market divide points towards two significant catalysts:
Technology stocks are reaping the rewards of the AI boom, drawing capital away from less exciting investments such as real estate investment trusts (REITs), utilities, yield cos, and infrastructure businesses.
The relentless climb of interest rates, accentuated by the Federal Reserve's hawkish tone, has reshaped market expectations, impeding the performance of dividend stocks.
The implications of rising interest rates have had a profound impact:
As interest rates ascend, reliable income streams from REITs, utilities, yield cos, and existing bonds lose their appeal, making them less enticing to investors.
Higher interest rates inflate borrowing costs for companies in these sectors, casting doubt on their profitability and subsequently diminishing investor confidence.
Rising interest rates breed risk aversion, tarnishing the defensive image of dividend stocks in sectors like REITs and utilities.
The Shifting Tide: Brace Yourself for the Market Reversal
Recent economic indicators hint at an impending slump, with inflation receding, job growth tapering off, and consumer spending hitting its limits.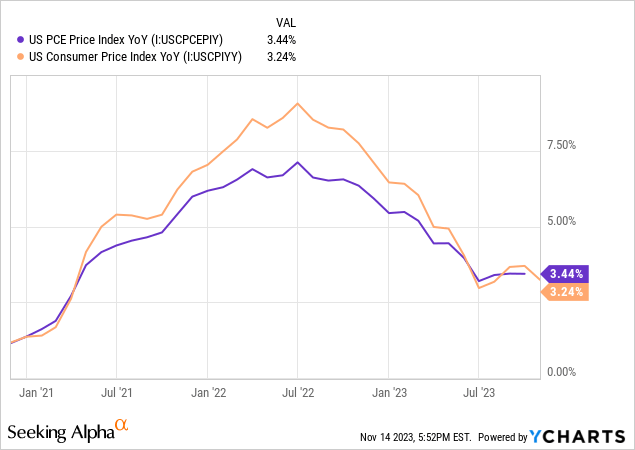 The weakening jobs market and a downtrend in consumer sentiment underscore the likelihood of a significant decrease in consumer spending.
Considering these factors, it's plausible that the Federal Reserve will halt interest rate hikes, eventually leading to a decline in both short and long-term interest rates. This shift toward a more defensive market, potentially indicative of an impending recession, sets the stage for a bullish trajectory for REITs, utilities, and yield cos with stable revenue streams.
Key Considerations for Investors
As the market pivots from the AI boom and higher interest rates to a recession and falling interest rates, a major reversal appears imminent. While tech stocks may struggle, we anticipate a surge in value-oriented dividend stocks.
"[The Magnificent Seven] will obviously be the worst performers in the upcoming recession. Whatever is leading the charge going into the economic downturn invariably must lead the charge on the way down. I would get out of them."
Considering this perspective, potential investments in Algonquin Power & Utilities (AQN), ATCO (OTCPK:ACLLF), Brookfield Renewable Partners (BEP)(BEPC), Brookfield Infrastructure Partners (BIP)(BIPC), Enterprise Products Partners (EPD), Energy Transfer (ET), Crown Castle Inc. (CCI), and Realty Income (O) may be worthwhile. These businesses offer defensive contractual cash flows, high yields, solid balance sheets, and potential for significant valuation multiple expansion.
Editor's Note: This article discusses securities that do not trade on a major U.S. exchange. Please be aware of the risks associated with these stocks.