The past week saw a downward trend for real estate investment trusts (REITs) as the earnings season kicked off. With a mix of disappointing reports and market factors impacting the broader economy, REITs faced a challenging week.
The FTSE Nareit All Equity REITs index experienced a decline of 3.88%, while the Dow Jones Equity All REIT Total Return Index fell by 3.85%. Additionally, the S&P 500 saw a decline of 2.39%. The Real Estate Select Sector SPDR ETF also dipped by 4.63%, and the mortgage REITs index experienced a substantial drop of 5.24%.
Several factors contributed to the decline in REITs, including ongoing geopolitical concerns and comments made by Federal Reserve chair Jerome Powell that rattled the markets. These factors had a significant impact on REITs as a subsector.
Notably, some major players in the sector failed to impress with their Q3 earnings reports. Single-family residential REIT Equity LifeStyle Properties (ELS) reported mixed results, while telecom tower REIT Crown Castle (CCI) missed expectations. On the other hand, SL Green Realty (SLG) saw a dip in its stock price despite beating expectations, as the office REIT revised its 2023 earnings guidance.
While the industrial REIT subsector met expectations with their Q3 results, the overall subsector experienced a decline. Industrial REITs saw a drop of 6.17% during the week, making them the second-largest decliner. The self-storage subsector fared even worse, falling by 7.10% on a weekly basis.
Take a look at the subsector performance in the chart below: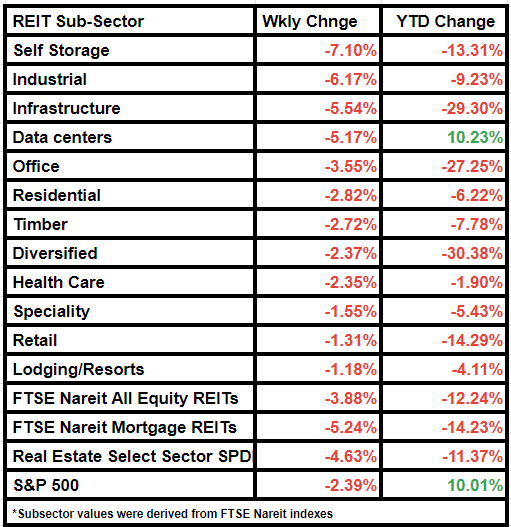 While REITs faced some challenges during this past week, it's important to keep in mind that the market is always fluctuating and opportunities may arise in the future. Stay tuned for updates on the latest market trends and insights.