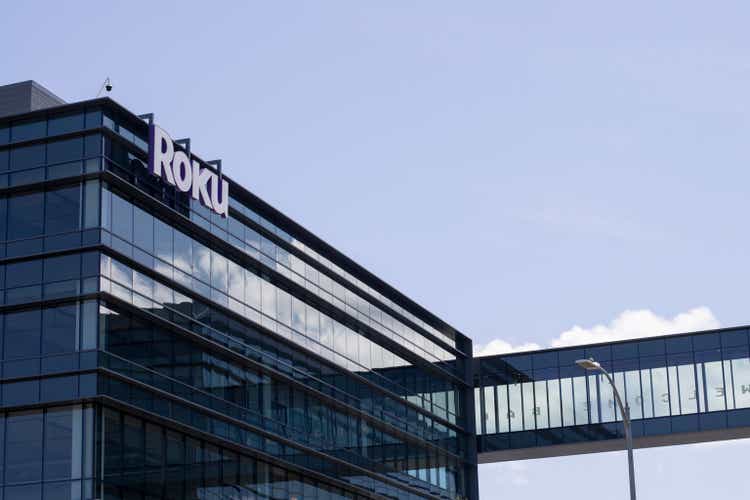 Roku's stock (NASDAQ:ROKU) took a hit of 8.3% on Wednesday following Wells Fargo's decision to revise its estimates for the streaming gatekeeper. The investment bank looked beyond the third-quarter report and zeroed in on projections for the rest of the year.
In September, Roku had raised its expectations for Q3, including a projected total net revenue in the range of $835M-$875M. However, analyst Steven Cahall of Wells Fargo expressed concerns about potential "softness" in ad trends during the fourth quarter.
According to Cahall, "We heard at our Advertising Day last month that scatter remains weak Q/Q, while ROKU will also face a reduction in [media and entertainment] spend due to the ongoing Hollywood strikes." With more upfront inventory in Q4 compared to last year, the upfront pricing's year-over-year comparison remains uncertain due to the weak ad environment during this year's TV upfronts.
Wells Fargo anticipates a year-over-year drop of 8% in revenue per streaming hour for Roku, as opposed to the 4% decline in Q3. Consequently, the bank has adjusted its Q4 platform revenue estimates by 1% to $780M (3% below consensus). This adjustment leads to a total projected revenue of $929M, a 7% increase compared to the previous year but 3% lower than street expectations.
Steven Cahall further indicates that the revised revenue estimate will impact gross profits, dropping them to $379M, which is about 6% less than Street predictions. However, the analyst anticipates that Q3 performance will align with Roku's previous preannouncement.
Based on these revisions, Wells Fargo has lowered its price target for Roku from $84 to $70.
This article provides valuable insights into Roku's recent market performance. It highlights Wells Fargo's revision of revenue estimates and the anticipated impact of ad trends during the upcoming quarter. By analyzing increased upfront inventory and weak ad environments, investors gain a better understanding of Roku's potential challenges and opportunities. The article also underscores the importance of Q3 performance in validating the revised projections and its impact on the company's stock price. Overall, this analysis offers valuable market analysis and commentary for investors interested in Roku and the streaming industry.