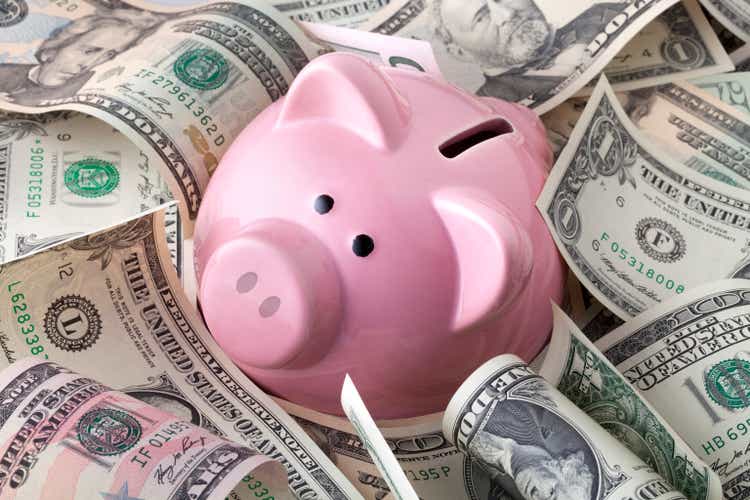 After holding the $70 level for most of 2023, few investors expected the sharp drop in Schwab U.S. Dividend Equity ETF (NYSEARCA:SCHD) through October 19, 2023. The popular income fund continued to fall daily through October 27, 2023. After losing $10 a share since August and 3.45% in the last week, investors need to take a look inside at what happened to the underlying top holdings.
After the firms posted third-quarter results, a confluence of selling pressure in those top holdings occurred. Unusually, they represent a range of sectors but all fell. In the short term, diversification became "de-worseification." In the last 10 days, the correlation of daily returns approached 1.0.
The image below illustrates the short-term positive correlation in red. The higher the correlation, the lower the diversification and the higher the portfolio risk.
Note that the image displays over 100 holdings, so the text is too small to show the details.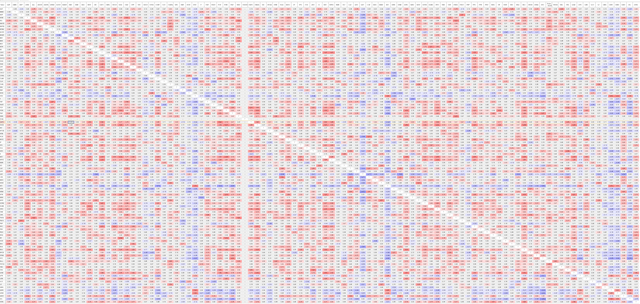 Correlation analysis from Stock Rover
The correlation values in red, above, show the holdings are moving in the same direction.
Fortunately, the correlation decreases over five years, so the ETF is achieving one of its fund objectives of diversification. According to the fact sheet, the fund tracks the total return of the Dow Jones Dividend 100 index. Its highlights are that it is a low-cost fund offering potential tax efficiency, the fund acts as a core holding or complements a diverse portfolio, and it selects companies with quality and sustainable dividends.
SCHD in the last five years: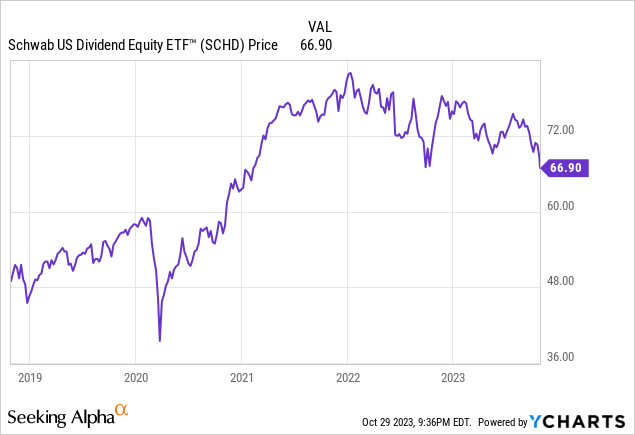 SCHD in the last three months: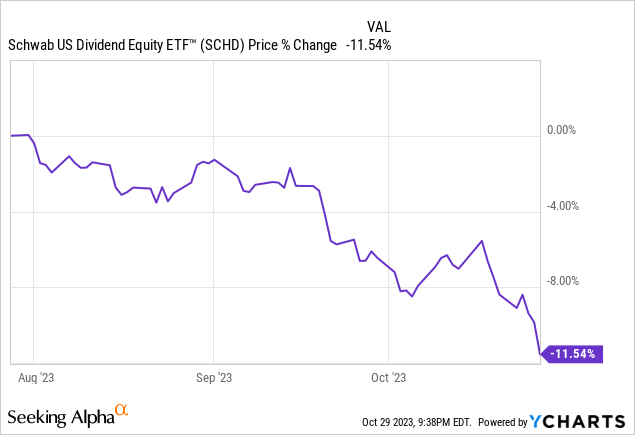 So, what happened since mid-October that sent SCHD off the proverbial cliff? Breadth weakened in the last week after around 30 stocks rose while more than 70 declined.
The ETF held six big positions whose underlying firms fell due to unique circumstances. This included, for example, firms making mega-sized acquisitions, scaring its investors.
Performance of Top Positions in the Last Week
In the last five days, six of the top holdings that accounted for around 2% of the fund each (12.83%) fell. Those companies are:
| | | | | | | |
| --- | --- | --- | --- | --- | --- | --- |
| Ticker | Company | 5-Day Return | YTD Return | Price | Quality Score | Dividend Yield |
| AMGN | Amgen | -6.20% | 2.20% | $261.57 | 89 | 3.30% |
| CSCO | Cisco Systems | -2.60% | 11.50% | $51.56 | 98 | 3.00% |
| ABBV | AbbVie | -5.00% | -10.60% | $138.93 | 87 | 4.30% |
| AVGO | Broadcom | -1.80% | 52.70% | $838.36 | 95 | 2.20% |
| HD | Home Depot | -3.50% | -10.60% | $276.46 | 87 | 3.00% |
| CVX | Chevron | -13.50% | -17.30% | $144.35 | 95 | 4.20% |
Data from Stock Rover
Given the strong quality scores and dividend yield, investors should expect the sell-off to reverse for those firms. I marked in bold font the stocks with a quality score of 95/100 or higher.
In the biotech sector, Amgen (AMGN) participated in the European Society for Medical Oncology Congress. The firm highlighted enrollment for the Phase 3 study of BLINCYTO for B-cell leukemia. Unfortunately, the market is potentially punishing drug companies that recently completed mega-sized deals.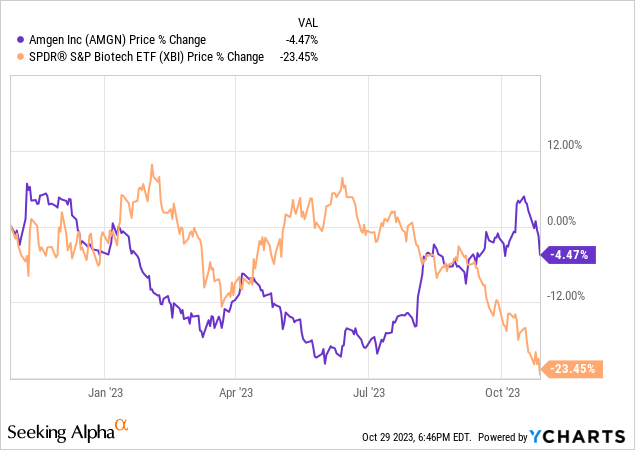 Above: Amgen compared to the SPDR S&P Biotech ETF (XBI).
On October 6, Amgen completed its $27.8 billion acquisition of Horizon Therapeutics. In addition, AMGN stock trades at a premium. It has a weak valuation grade, which worsened after the stock rallied from $225 in June to $261.57: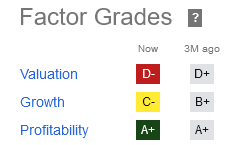 AbbVie (ABBV) is a top holding, also in the drug manufacturing sector. The stock lost 4.8% last week after posting non-GAAP earnings per share of $2.95. It earned $1.00 on a GAAP basis. The non-GAAP figure adjusted for a $2.04 billion intangible asset amortization and a $2.1 billion intangible asset impairment.
ABBV stock has an unfavorable valuation score and weak growth, offset by strong profitability.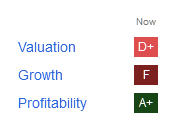 On the conference call, CEO Rick Gonzalez said that results are ahead of expectations. It managed several quarters of Humira facing biosimilar competition.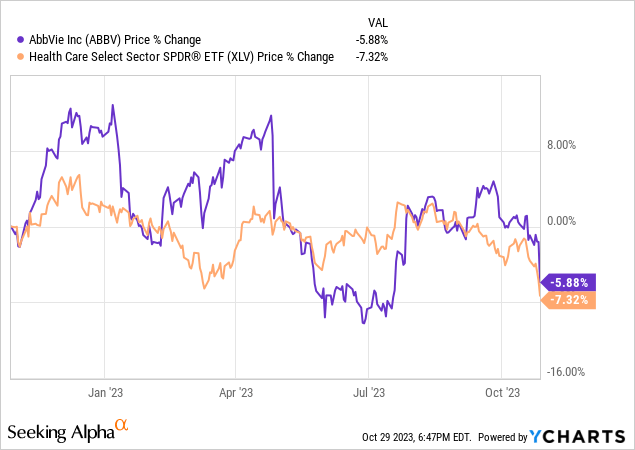 Above: AbbVie compared to the Health Care Select Sector SPDR Fund ETF (XLV).
The firm expects a return to growth starting in 2025 and a high single-digit CAGR (compounded annual growth rate) to the end of the decade.
AbbVie has strong operating margins for Rinvoq for the irritable bowel syndrome indication and the product treating Crohn's disease. Its guidance of 46.5% will continue next year.
ABBV stock has higher dividend growth benefits to the ETF after it hiked its dividend by 4.7%.
Technology
In the technology sector, Cisco Systems (CSCO) peaked in September 2023. The bullish sentiment reversed on Sept. 21, 2023, when the networking giant announced a deal to acquire Splunk for $28 billion. It offered a hefty 31.9% premium and will pay $157 per share in cash. Splunk enhances Cisco's offering through additional monitoring and analyzing features. However, the company will not add to adjusted earnings per share until two years after the deal closes.
Investors with a short-term mindset are selling CSCO stock now and asking questions later. Still, Splunk strengthens the mature firm's product for the long term. Shareholders are nervous because Cisco achieved 11% revenue growth in fiscal year 2023. This is the highest revenue growth rate in over a decade.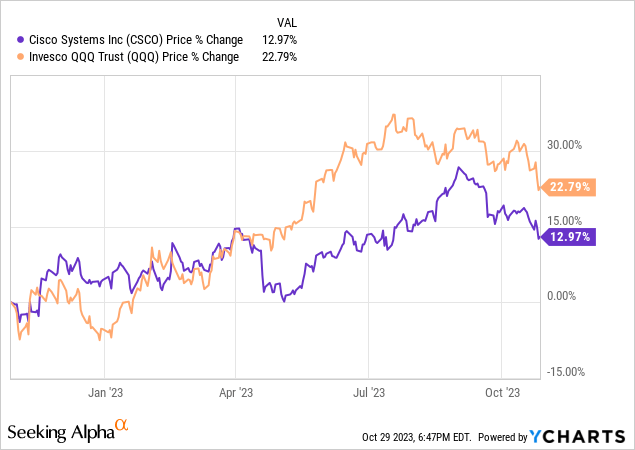 Above: Cisco compared to Nasdaq (QQQ).
Readers should realize the firm is not immune to a spending slowdown. CEO Chuck Robbins needed a software solution to enable the company to explore new growth opportunities in artificial intelligence, cloud, and security.
Just like Amgen, Cisco's valuation grade worsened in the last three months. Markets needed to bring the share price lower to price in the potential weakness ahead.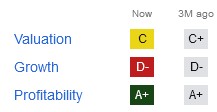 Cisco is a highly profitable firm with weak growth. But it is a suitable technology holding for SCHD ETF.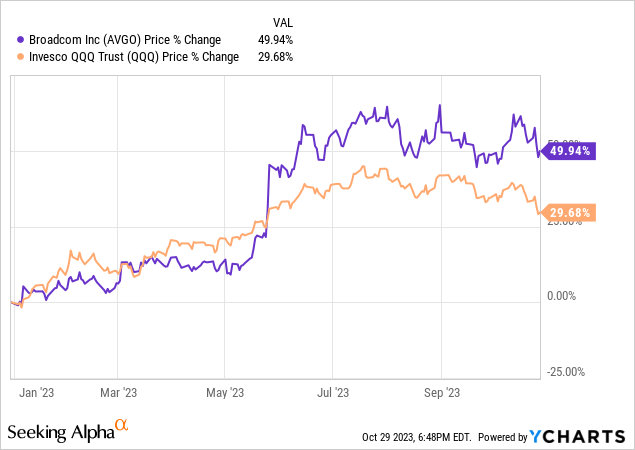 Above: Broadcom outperformed Nasdaq.
Up by more than 50% YTD, Broadcom (AVGO) has a strong buy quant rating. The tech giant is getting closer to final approval of its acquisition of VMware (VMW). Broadcom enjoys double-digit growth in the hyperscale market. Strong demand for generative AI will help grow its custom computing market.
Consumer Goods
In the consumer space, Home Depot (HD) dropped sharply after failing to break out above $347 in the summer. Similar to SCHD's other top holdings, HD stock has a weak value and growth grade.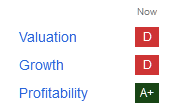 Comparable sales need to grow, compared to the -2.0% reported in the last quarter.
Diversified food supplier PepsiCo (PEP), which scores a "D" on valuation, posted strong results. Its revenue grew by 6.7% Y/Y to $23.45 billion. Its long-term organic growth range of 4% to 6% for a company of this size is impressive.
In 2024, Pepsi anticipates higher costs and inflationary pressures in its business. CEO Ramon Laguarta said that it will price its goods in line with inflation, probably in the 2% to 3% range. To sustain margins, it will maximize sales volumes and transactions to optimize margins at the PepsiCo Beverages North America unit.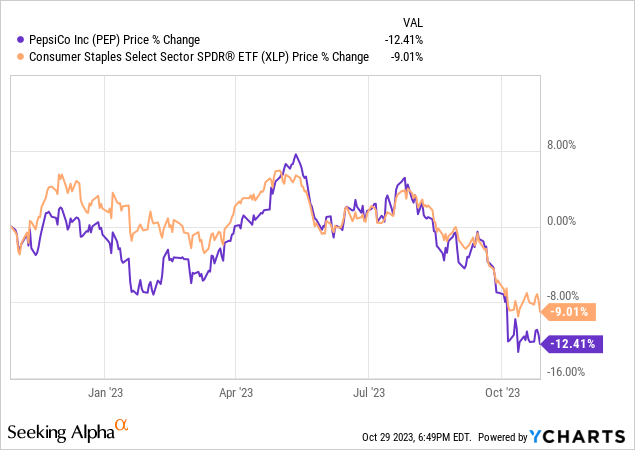 Above: Pepsi performed worse than the Consumer Staples Select Sector SPDR Fund ETF (XLP).
Energy Stock Slump
Chevron (CVX) fell by $6.72, down 10.4%, a decline this big has not been seen since June 17, 2022. As the acquirer of Hess Corporation (HES) for a massive $53 billion, arbitrageurs are dumping CVX stock. Hess, a mid-sized oil firm, likely wanted to let a bigger firm take over. Regulations in the energy industry are a headwind that needs a larger firm to navigate through. Chevron's acquisition is costly if oil prices fall but additive to results if prices keep rising.
Below: CVX stock is sharply below the Energy Select Sector SPDR Fund ETF (XLE).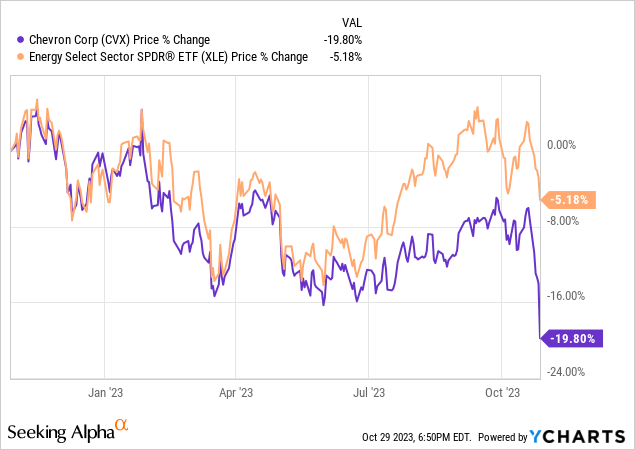 CVX stock grade is strongest on profitability and weakest on growth. Flagged as an oversold stock, bargain hunters may take advantage of the weakening momentum to acquire shares at great prices.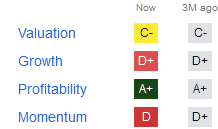 Takeaway
The stock grade reveals that SCHD needed a pullback to correct for the unfavorable valuation. Its decline will spook short-term investors. Long-term investors who recognize the growth plans in the top holdings need not worry. It is a chance to increase the ETF position at better valuations.