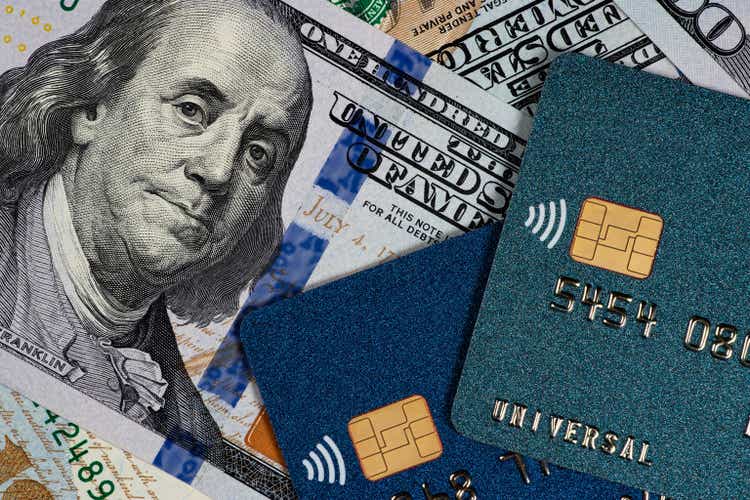 Overall, credit card delinquency rates rose for lenders in September, while their net charge-off rates declined from
August, according to data compiled by Seeking Alpha.
Looking further back, the average delinquency rate of seven card issuers was about the same as it was in September
2022. Net charge-offs, though, are lower. Note that there's a lag between when delinquency rates rise and when
companies write off the debt as uncollectible.
Looking even further back, credit metrics stand roughly level with prepandemic readings. The banks that are
exhibiting stronger readings on both delinquency and net charge-offs than before the pandemic are: American Express
(NYSE:AXP), JPMorgan Chase (NYSE:JPM), Citigroup (NYSE:C), and Bank of America (NYSE:BAC).
Looking ahead, some of the credit card issuers discussed their expectations for credit quality during their Q3
earnings call. Following are some excerpts:
"Our delinquencies are the best leading indicator of domestic card credit performance, and the pace of delinquency
rate normalization is slowing," said Capital One Financial (NYSE:COF) Chairman and CEO Richard Fairbank.
"[For] the months of August and September, the month-over-month movement is getting really close to just the normal
seasonal trend. And so this is one of the early indications that the trend of normalization we've been seeing may be
stabilizing," he added.
But Fairbank was careful to say that the trend may not continue. "We happen to see some pretty positive things here,
but they can also be a head fake and not be as good as they appear."
For American Express (AXP), credit card delinquency and write-off rates have stayed relatively flat during the
quarter, said CFO Christophe Le Caillec. Going forward, "we continue to expect these delinquency and write-off rates
to increase over time, and they are likely to remain below pre-pandemic levels in the fourth quarter."
JPMorgan Chase (JPM) expects its 2023 net charge-off rate to rise to 2.5%, mostly due to recent balanced growth,
said CFO Jeremy Barnum during the company's Q3 earnings call.
While Discover (NYSE:DFS) doesn't report the last month of the quarter separately until the following month, its Q3
total net charge-offs were 3.52% up 30 basis points from Q2 and 181 points higher than a year ago. In its card
business, "we continue to see the effects of seasoning of newer accounts, which have higher delinquency rates than
older vintages," said CFO John Greene. "Losses remained consistent with targeted ranges. These newer vintages support
strong long-term profitability."
Bread Financial (NYSE:BFH) said its Q3 delinquency rate rose to 6.3% from 5.5% in Q2, as expected. It expects the Q4
delinquency rate to remain "relatively consistent" with Q3, said CFO Perry Beberman. Its net loss rate fell to 6.9%
from 8.0% in the previous quarter, reflecting a transition of its credit card processing services. The company
expects the net loss rate to be ~8% for Q4 and in the mid-7% range for the full-year 2023.
Citigroup (C) expects net credit losses in its cards businesses to continue to normalize, reaching prepandemic levels
by year-end, said CFO Mark Mason.
Synchrony Financial's (NYSE:SYF) delinquencies almost reached 2019 levels at Q3-end "and should follow seasonal
trends from this point," said CFO Brian Wenzel. "We are tightening our forecasted net charge-off rate to
approximately 4.85%, we continue to anticipate our loss rate reaching a fully normalized level between 5.5% and 6% on
an annual basis in 2024." (Note that SYF's net charge-off rate, also called loss rate, stood at 4.4% in
September.)
Company
Ticker
Type
Sept.
August
July
3-month average
Sept. 2019
Change in bps
Capital One
COF
delinquency
4.31%
4.09%
3..95%
4.20%
3.71%
61
charge-off
4.16%
4.55%
4.48%
4.40%
3.93%
23
American Express
AXP
delinquency
1.30%
1.20%
1.1%%
1.25%
1.50%
-20
charge-off
1.70%
1.70%
1.80%
1.73%
2.00%
-30
JPMorgan
JPM
delinquency
0.95%
0.90%
0.89%
0.91%
1.17%
-22
charge-off
1.60%
1.68%
1.55%
1.61%
2.32%
-72
Synchrony
SYF
delinquency
4.40%
4.10%
4.00%
4.17%
4.40%
0
adjusted charge-off
4.40%
4.70%
4.70%
4.60%
5.30%
-90
Bread Financial
BFH
delinquency
6.30%
5.90%
5.70%
5.97%
5.90%
40
charge-off
6.70%
6.70%
7.40%
6.93%
5.30%
140
Citigroup
C
delinquency
1.33%
1.28%
1.21%
1.27%
1.52%
-19
charge-off
2.13%
1.97%
1.65%
1.92%
2.61%
-48
Bank of America
BAC
delinquency
1.30%
1.26%
1.24%
1.27%
1.59%
-29
charge-off
2.11%
2.13%
1.89%
2.04%
2.54%
-43
Avg. delinquency
2.84%
2.68%
2.61%
2.71%
2.83%
1
Avg. charge-off
3.26%
3.35%
3.35%
3.32%
3.43%
-6
More on American Express, Capital One, etc