Sterling Infrastructure, Inc. has ambitiously expanded its reach in the home-building industry by acquiring Wylie, TX-based Professional Plumbers Group, Incorporated (PPG) within its Building Solutions segment. This strategic maneuver is the latest in a string of acquisitions aimed at revolutionizing the home-building landscape.
The acquisition of PPG, involving a cash payment of $50 million and an earnout opportunity based on future EBITDA targets, is set to significantly enhance Sterling's suite of home-building services in the greater Dallas market. The move will position Sterling as a full-service concrete slab and plumbing provider, ushering in a new era of construction services.
Earlier, on Dec 20, 2022, Sterling finalized the acquisition of Concrete Construction Services of Arizona LLC and its affiliate, which specializes in providing residential single-family home concrete foundations in the Greater Phoenix area. This acquisition was integrated into Tealstone, a vital part of the Building Solutions segment.
In December 2021, Sterling also completed the acquisition of Petillo LLC and its related entities, a leading specialty site development solution provider in the Northeast and Mid-Atlantic. Furthermore, it acquired Kimes & Stone, a company offering diverse services, including soil stabilization for site development on e-commerce projects and roadways as well as manufacturing plant construction.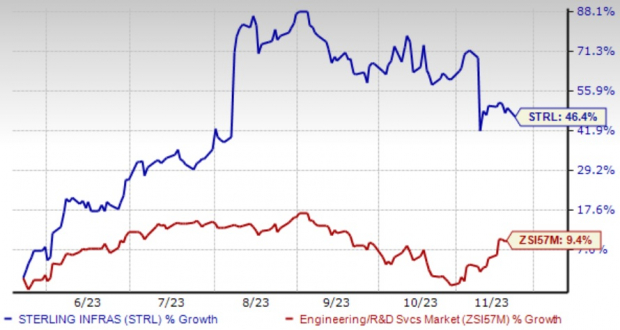 Image Source: Zacks Investment Research
Over the past three months, shares of Sterling Infrastructure have surged by an impressive 46.4%, significantly outperforming the Zacks Engineering – R and D Services industry's 9.4% growth.
Top-Ranked Construction Stocks Catching Investor Attention
Gates Industrial Corporation plc, a manufacturer of engineered power transmission and fluid power solutions, is another promising stock. Currently carrying a Zacks Rank #1 (Strong Buy), the company is expected to witness substantial earnings growth in 2023.
The global manufacturer of engineered products, Howmet Aerospace, Inc., which serves industries such as aerospace, defense, and commercial transportation, is also making waves in the stock market. With a Zacks Rank #2, the company is projected to experience solid earnings growth in the coming year.
Willdan Group, Inc., a nationwide provider of professional, technical, and consulting services, represents another lucrative investment opportunity. With a Zacks Rank #2, the company is expected to achieve an impressive earnings growth rate in 2023.
Zacks Names "Single Best Pick to Double"
From thousands of stocks, 5 Zacks experts have each selected a favorite stock with the potential to soar by +100% or more. Director of Research Sheraz Mian has hand-picked one with the most explosive upside, touted for a "watershed medical breakthrough" and a pipeline of projects that could revolutionize the treatment of liver, lung, and blood diseases. This presents investors with a timely opportunity to tap into its growth potential as it emerges from a bear market.
It could potentially outshine recent Stocks Set to Double – including Boston Beer Company, which surged by +143.0% in just over 9 months, and NVIDIA, which soared by +175.9% in a year.
Free: See Our Top Stock And 4 Runners Up
For the most recent recommendations from Zacks Investment Research, download 7 Best Stocks for the Next 30 Days for free today. Click to get this free report.
Willdan Group, Inc. (WLDN) : Free Stock Analysis Report
Sterling Infrastructure, Inc. (STRL) : Free Stock Analysis Report
Gates Industrial Corporation PLC (GTES) : Free Stock Analysis Report
Howmet Aerospace Inc. (HWM) : Free Stock Analysis Report
The views and opinions expressed herein are the views and opinions of the author and do not necessarily reflect those of Nasdaq, Inc.