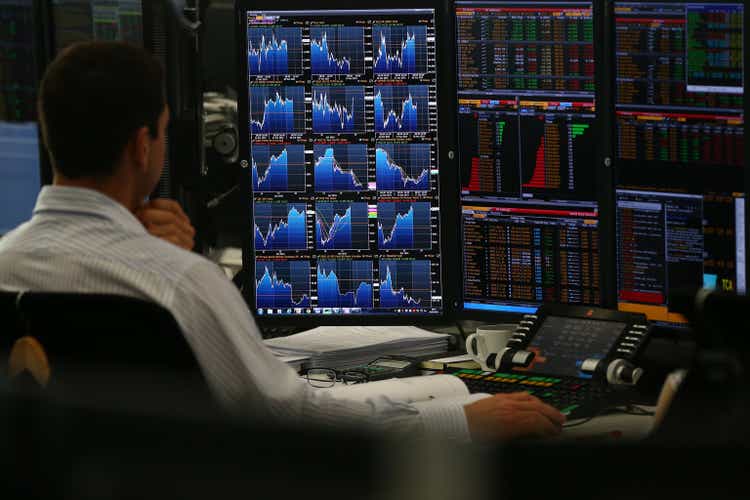 On the last trading day of the week, major market averages lagged behind with a notable attempt at holding onto a winning week.
The Dow (DJI) showed a -0.1% decrease, the S&P 500 (SP500) demonstrated a -0.1% slip, and the Nasdaq Composite (COMP.IND) also experienced a -0.1% fall.
Before today's trading session, the S&P 500 (SP500) boasted a 2.1% increase for the week, with the Nasdaq (COMP.IND) up 2.3% and the Dow (DJI) up 1.9%.
Rates maintained their stability. The 10-year Treasury yield (US10Y) grew by 1 basis point to 4.45%. The 2-year yield (US2Y) rose by 7 basis points to 4.90%.
"The market is clearly eyeing a change in the rate cycle," expressed ING. "Futures are pricing a 100bp of rate cuts from the Fed over the course of next year, with the first rate cut possibly coming ahead of the summer. As a result, the UST 2Y yield has been testing the 4.8% level over the past sessions."
"The potential rate cycle change is still being weighed against the term premium narrative as a 20Y auction next week and greater uncertainty about next year's presidential elections are not helping either the near or long-term perspective. Reuters also cited Fed officials' letter to a Senator that the central bank's balance sheet could shrink considerably further before levels consistent with the ample reserves framework are reached."
October's housing starts and building permits figures were released on the economic data front. Housing starts came in at 1.37M, compared to the expected annual rate of 1.35M. Building permits arrived at 1.48M, surpassing the forecasted 1.45M.