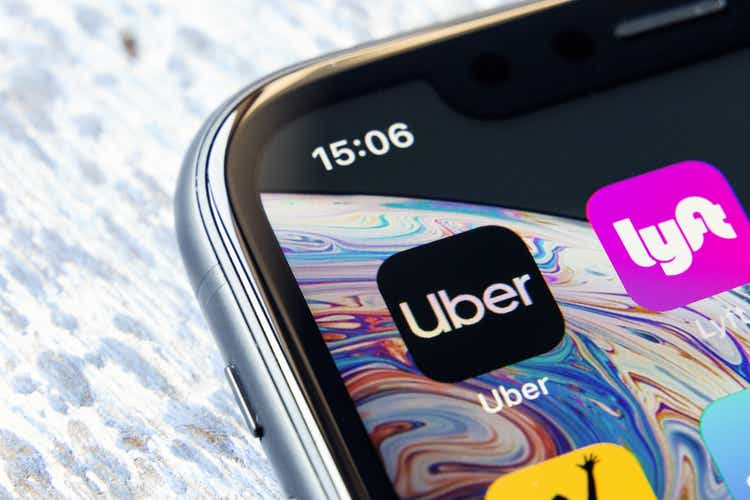 As the quarterly earnings reports for Uber (NYSE: UBER) and Lyft (NASDAQ: LYFT) approach on November 7 and November 8 respectively, UBS is optimistic about the results from both ride-sharing companies.
However, UBS also predicts lower multiples for both companies due to the broader macro pressures affecting the internet sector. Despite this, UBS favors Uber over Lyft.
Consensus estimates for Uber indicate a GAAP EPS of $0.12 and revenue of $9.54 billion, compared to -$0.61 and $8.34 billion in the same period last year. UBER beat expectations on the revenue front.
UBS suggests that Uber's results may provide more details on capital return, potentially leading to a shift towards profitable GAAP EPS on a TTM basis. This could position Uber for inclusion in the S&P 500 index during the next rebalancing.
For Lyft, consensus estimates indicate a GAAP EPS of -$0.18 and revenue of $1.14 billion, compared to -$1.18 and $1.05 billion in Q3 2022, respectively.
UBS believes there is potential risk for decreasing consensus contribution margins and adjusted EBITDA next year, which could impact contribution margin estimates. However, the firm also notes that lower operating expenses estimates may partially offset this risk.
In addition to Uber and Lyft, UBS provided insights on DoorDash (DASH), which will report its earnings on November 1. UBS anticipates potential upside to both top and bottom line expectations for the company.
UBS addressed concerns around GLP-1 drugs, stating that near-term fears are overstated. However, the firm recognizes the long-term risk if a larger number of people begin to use these drugs, leading to wider availability and cost declines.
Overall, UBS remains bullish on the Q3 results for Uber and Lyft, despite the lower multiples expected. The firm also sees potential growth for DoorDash and acknowledges the risks associated with GLP-1 drugs.