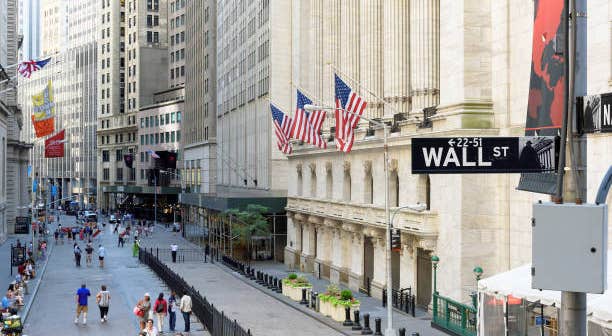 Today in the stock market, US stocks are showing some real excitement! The Nasdaq Composite is leading the charge, gaining more than 50 points this morning.
At the market opening, the Dow is up 0.12% to 34,988.28, the NASDAQ has risen 0.49% to 14,194.23, and the S&P 500 has also jumped up, gaining 0.17% to 4,521.69.
Check out our picks for the top 3 industrials stocks that may explode this month. You don't want to miss out on this hot tip!
Leading and Lagging Sectors
Information technology shares are surging by 0.7% today, really lighting up the market.
In trading today, utilities shares are taking a hit, falling by 1.5%.
Top Headline
Microsoft Corp's MSFT CEO Satya Nadella announced that OpenAI's Sam Altman and Greg Brockman will be joining the company.
Equities Trading UP
Bruush Oral Care Inc. BRSH shares have shot up an incredible 182% to $0.4760. This is a market move that cannot be ignored. Brüush received Nasdaq notification regarding minimum bid requirements.
Shares of Nogin, Inc. NOGN received a boost, shooting up a whopping 68% to $0.3027.
Cuentas Inc. CUEN shares are also up a remarkable 60% to $1.52 after reporting a narrower quarterly loss.
Equities Trading DOWN
NanoString Technologies, Inc. NSTG shares have dropped a concerning 45% to $0.71.
Shares of PaxMedica, Inc. PXMD are down 37% to $1.0950 after the company announced pricing of $7 million public offering of 5,384,615 shares and accompanying warrants at a price of $1.30 per unit.
Intelligent Bio Solutions Inc. INBS was down, falling 34% to $0.30. What a nosedive!
Commodities
In commodity news, oil is running up 1.7% to $77.15 while gold is taking a surprising 0.5% dip, now at $1,974.60.
Silver is also taking a hit, down 1.6% to $23.47 on Monday while copper is rising 0.5% to $3.7555. These wild swings are surely catching the attention of investors!
Euro Zone
European shares are mixed today. The eurozone's STOXX 600 is slipping 0.1%, London's FTSE 100 is down 0.2% while Spain's IBEX 35 Index is rising 0.7%. The German DAX is falling 0.3% and French CAC 40 is rising 0.2%, while Italy's FTSE MIB Index is down 0.1%.
Construction output in the Eurozone is falling by 0.3% year-over-year in September. Producer prices in Germany are also falling by 11.0% year-over-year in October following a 14.7% decline in September.
Asia Pacific Markets
Asian markets closed with mixed results on Monday, with Japan's Nikkei 225 falling 0.59%, Hong Kong's Hang Seng Index gaining 1.86% and China's Shanghai Composite Index gaining 0.46%. India's S&P BSE Sensex, meanwhile, fell 0.21%.
The People's Bank of China kept lending rates unchanged at the November fixing. Malaysia's trade surplus shrank to MYR 12.9 billion in October from MYR 18.6 billion in the year-ago month.
Economics
The index of leading economic indicators for October will be released at 10:00 a.m. ET. Don't miss out on this economic indicator that could give crucial insights into the market!