The Aaron's Company, Inc. (AAN) operates a rent-to-own business under multiple brands focused on furniture, appliances, electronics, and beyond.
Aaron's earnings revisions started falling off a cliff during the summer of 2022 as higher rates and inflation began to eat into broader discretionary spending. On top of that, consumers simply pulled back from spending on big-ticket items after the massive Covid-era splurge on TVs and more.
The Struggle
AAN posted a huge Q3 bottom line miss on October 23, with analysts lowering their earnings outlooks once again.
Aaron's, in its own words, is a "technology-enabled, omnichannel provider of lease-to-own and retail purchase solutions of appliances, electronics, furniture, and other home goods." The Atlanta-based firm operates under its namesake brands, as well as BrandsMart U.S.A., BrandsMart Leasing, and Woodhaven.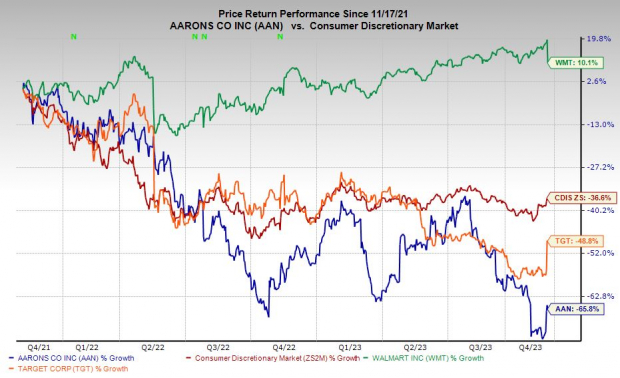 Image Source: Zacks Investment Research
Aaron's posted solid growth in 2021 and 22% top-line expansion in 2022. But Aaron's earnings outlook started falling rather quickly in the middle of last year amid higher rates and inflation. Plus, many U.S. consumers already bought all of the TVs and furniture that they needed for the foreseeable future during the massive Covid-era shopping spree.
Financial Turmoil
Aaron's is suffering a similar fate as Target (TGT) and other discretionary-focused retailers. In contrast, Walmart (WMT) had thrived in 2023 due to the more essential nature of its offerings.


Image Source: Zacks Investment Research
Aaron's posted adjusted earnings of $0.01 per share in Q3 vs. our $0.06 Zacks Consensus estimate. The company's fiscal 2023 earnings estimate is now down 37% over the last year from $1.59 a share to its current $1.09 a share. Worst still, AAN's FY24 EPS consensus has fallen by 46% over the last 12 months.
Market Fallout
AAN stock has fallen by -66% during the last two years vs. Target's -49% decline and Walmart's 10% gain. This downturn includes a 30% tumble over the trailing three months, compared to Target and Walmart's sideways movement.  
Aaron's overall downward earnings revisions help it land a Zacks Rank #5 (Strong Sell) right now. Current Zacks estimates call for its FY23 earnings to fall 47% YoY and then slip another 9% next year.
Investors might want to stay away from Aaron's stock for the moment, especially as Wall Street grows a bit more worried about slowing consumer spending. 
Zacks Reveals ChatGPT "Sleeper" Stock
One little-known company is at the heart of an especially brilliant Artificial Intelligence sector. By 2030, the AI industry is predicted to have an internet and iPhone-scale economic impact of $15.7 Trillion.
As a service to readers, Zacks is providing a bonus report that names and explains this explosive growth stock and 4 other "must buys." Plus more.
Download Free ChatGPT Stock Report Right Now >>
Want the latest recommendations from Zacks Investment Research? Today, you can download 7 Best Stocks for the Next 30 Days. Click to get this free report
Target Corporation (TGT) : Free Stock Analysis Report
Walmart Inc. (WMT) : Free Stock Analysis Report
The Aaron's Company, Inc. (AAN) : Free Stock Analysis Report
To read this article on Zacks.com click here.
The views and opinions expressed herein are the views and opinions of the author and do not necessarily reflect those of Nasdaq, Inc.