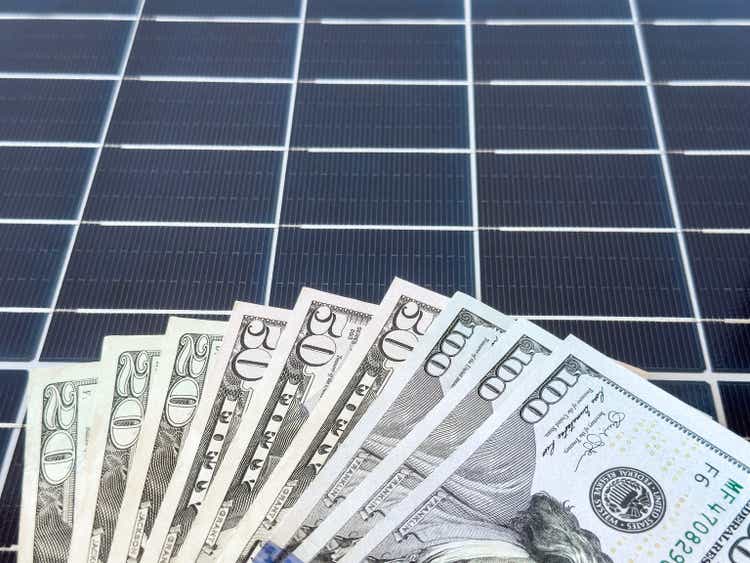 This article was coproduced with Leo Nelissen.
Infrastructure investing, the bedrock of financial stability, continues to draw interest.
With geopolitical unrest rattling markets, solid investments are like precious gems in a sea of pebbles.
And Brookfield Infrastructure Corporation (NYSE:BIPC) stands out like a diamond in a quarry!
The company's assets are like Fort Knox, impervious to the market's tempestuous tides.
So let's dig into this bastion of rock-solid wealth creation.
I've got more single stocks in the infrastructure industry than I have fingers, but I am eager to add BIPC to my roster. Why? Let's find out more about this enticing opportunity.
Brookfield: The Unsung Colossus
Led by Bruce Flatt, the ninja of investment prowess, Brookfield Infrastructure Corporation (BIPC) pilots a gargantuan $40 billion enterprise value portfolio across utilities, transportation, energy, and data sectors.
This arsenal includes 62,000 kilometers of electricity transmission lines, 4,200 kilometers of natural gas pipelines, 32,000 kilometers of rail, and much more – enough to make any investor swoon with delight!
But that's not all! The company's crown includes 200,000 telecom towers, two semiconductor manufacturing plants, and 50 data centers, among other gems, forming an impregnable fortress of financial might.
And here's the clincher: a staggering 70% of FFO enjoys immunity from volume or price exposure, driven by utilities and data, while 80% of FFO is inflation-protected, with 70% capable of outstripping inflation.
Now, that's a financial rampart!
A Citadel of Financial Resilience
The company aims to provide secure and burgeoning distributions/dividends, boasting an annual dividend growth target of 5% to 9% and a payout ratio targeted between 60% and 70%.
For dividend hunters, an annualized dividend of $1.53 translates to a 5.8% yield for BIP and 5.1% for BIPC – a tidal wave of financial security!
Its balance sheet bears the BBB+ imprimatur, nestling just below the A-range and reflects a capital recycling program that promises growth options. And with $2.3 billion in liquidity, the company is like a financial T-1000, indefatigable and unyielding.
Moreover, with $2 billion in asset sales expected for 2024, the company is sowing the seeds for future growth, safeguarding investors against dilution and soaring rates. An insurance policy against financial volatility, if you will!
Ambitious Growth Amidst Market Tempests
Shining like a beacon in a tempest-tossed sea, BIPC's growth focus revolves around the three D's – Digitalization, De-globalization, and Decarbonization.
The company anticipates trillions to be poured into these areas, and this spells out a lucrative future for BIPC in the infrastructure market – akin to unveiling a treasure map!
Championing a capital bagging spree, the company has marked a target of over 10% annual FFO growth, a feat it has triumphed in since 2012 – leaving others in its wake.
With undervaluation gripping the market, BIPC's stock is trading more than 40% below its all-time zenith – an unfair reprisal for a job well done.
But as history teaches, when the tides recede, a wealth of opportunities are unearthed amidst the rocks.
All in all, BIPC presents a refuge of financial resilience, fortified by an alliance of robust financials, ambitious growth plans, and undervaluation that might just be the bargain of the century!
For investors seeking to defy market volatility, Brookfield Infrastructure stands tall as a beacon of resilience, offering an enchanting path amidst the market's crosscurrents.
Its fortress of financial might, spearheaded by sturdy dividend yields, undervaluation, and potent growth prospects, promises to be a potent ally in the fight for financial stability.
In a world marked by financial tumult, BIPC offers a sanctuary of stability and growth, beckoning like a lighthouse amidst the tempest.
For the financially embattled, BIPC stands as a bulwark of resilience, promising a refuge from the stormy seas of the market.