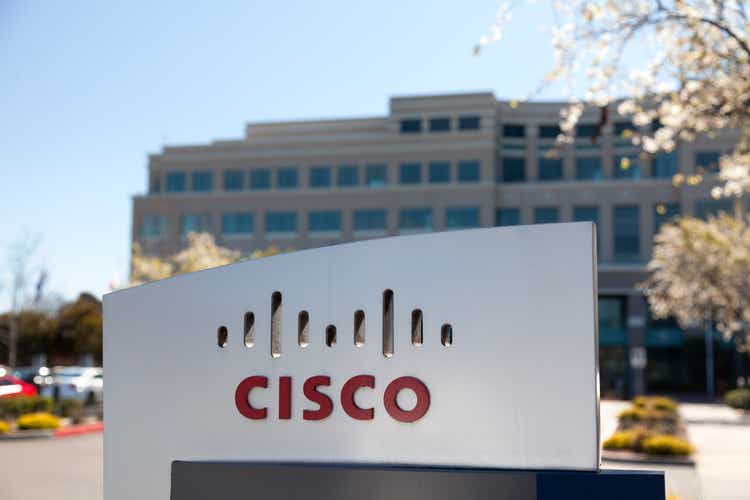 Cisco Systems (NASDAQ:CSCO) suffered a staggering 12% nosedive in extended-hours trading on Wednesday as the technology juggernaut slashed down its full-year sales outlook.
In its revised projection, Cisco now anticipates full-year 2024 sales within the range of $53.8B to $55B, marking a steep descent from the previous estimate of $57B to $58.2B, owing to a slowdown in new orders. This downward adjustment caught analysts off guard, as they were expecting full-year sales to reach $57.84B.
The company's fiscal 2024 earnings are also expected to take a hit, likely falling within the range of $3.87 to $3.93 per share, excluding one-time items, a significant drop from the $4.05 per share estimate.
Blaming the deceleration on the fact that customers are presently focused on installing and implementing products after three quarters of robust product delivery, Cisco hinted at a brighter future, with Scott Herren, the company's CFO, professing, "After customers implement large amounts of recently shipped product, we expect to see product order growth rates accelerate in the second half of the year. We are committed to delivering operating leverage and increasing capital returns to our shareholders."
For the first-quarter, Cisco (CSCO) raked in $14.67B in revenue and netted $1.11 per share, excluding one-time items. Service revenue and product revenue stood at $3.53B and $11.14B, respectively, with an adjusted gross margin of 67.1%. Additionally, the company reported ending the period with $34.8B in remaining performance obligations.
Looking forward to the second quarter, Cisco (CSCO) forecasts sales to hover between $12.6B and $12.8B, a significant deviation from the $14.2B that analysts had projected. Adjusted gross margins are anticipated to fall between 65% and 66%, below the 65.6% estimate.
In the wake of Cisco's (CSCO) results, competitors Juniper Networks (JNPR) and Arista Networks (ANET) also took a hit in sympathy, succumbing to the ripples of this seismic market event.
The company has scheduled a conference call at 4:30 p.m. EST to delve into the repercussions of these startling results.