In after-hours trading on August 31, The Lovesac Company (LOVE) saw a 1.83% increase in stock price following the announcement of its unaudited and unreviewed financial results for the second quarter of fiscal 2024 (ended July 30, 2023). The company surpassed its projected net sales and earnings figures, demonstrating strong performance in the period.
Overview of Preliminary Results
In the second quarter of fiscal 2024, net sales reached approximately $154 million, exceeding the previously estimated range of $149-$151 million. This is an improvement from net sales of $148.5 million in the same period last year.
The gross margin is expected to rise to 59% compared to 54.5% in the previous year. The net loss for the quarter is projected to be between $0.5-$1.5 million, down from the initial estimate of $2-$2.5 million. In the second quarter of fiscal 2023, LOVE reported a net income of $7.1 million.
The company has identified the need to restate its fiscal 2023 and first-quarter fiscal 2024 results due to accounting errors related to a last-mile journal entry and the calculation of accrual for last-mile freight expenses. As a result, the completion of the Form 10-Q filing for the second quarter of fiscal 2024 may be delayed.
Over the past three months, LOVE's stock has declined by 1%. During the same period, the retail home furnishings industry and the S&P 500 composite have seen increases of 16.1% and 5.1%, respectively.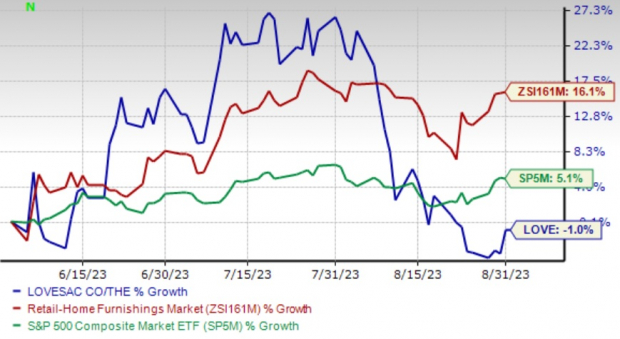 Image Source: Zacks Investment Research
For the full year, The Lovesac Company is projected to achieve a 6.2% earnings growth rate from a 9.2% increase in net sales. The Zacks Consensus Estimate for current-year earnings has remained steady over the past 60 days.
Zacks Rank
LOVE currently holds a Zacks Rank #3 (Hold). To see the complete list of Zacks #1 Rank (Strong Buy) stocks, click here.
Recent Releases
Other companies that have recently reported their financial results include:
Williams-Sonoma Inc. (WSM): Mixed results in the second quarter of fiscal 2023, with earnings exceeding expectations but revenues falling short. Factors such as a challenging promotional environment and declining industry metrics contributed to the decline in performance.
Builders FirstSource (BLDR): Second quarter of 2023 earnings and net sales surpassed the Zacks Consensus Estimate. The company's strong housing market and operational initiatives have contributed to its success.
Darden Restaurants, Inc. (DRI): Fourth quarter of fiscal 2023 results show an increase in earnings and revenues. The company expects sales and same-restaurant sales to grow in the coming year.
For more stock analysis and investment research, visit Zacks Investment Research.