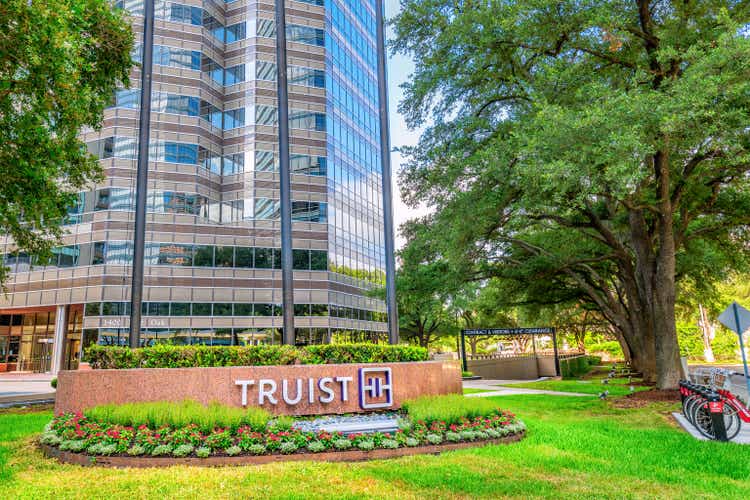 Truist Financial (NYSE:TFC) has reported its Q3 earnings, surpassing Wall Street's consensus expectations when excluding merger-related and restructuring charges. The company experienced a decline in both net interest income and non-interest income from the previous quarter.
Looking ahead, Truist expects Q4 revenue (taxable equivalent) to remain flat or decrease by 1% compared to Q3's $5.73 billion. Additionally, adjusted expenses are projected to decrease by 3.5% from Q3's $3.75 billion. These estimates point toward Q4 revenue between $5.67 billion and $5.73 billion, slightly below the consensus estimate of $5.69 billion.
For the full year, Truist now anticipates a 1.5% increase in adjusted revenue ("TE") from FY2022's $23.2 billion, compared to its previous estimate of a 1%-2% increase. Adjusted expenses, excluding Truist Insurance Holdings "independence readiness" costs of around $55 million, are expected to rise by 7%, slightly higher than the previous guidance. Net charge-offs are also anticipated to reach 50 basis points, compared to the prior view of 40-50 bps.
In premarket trading on Thursday, Truist (TFC) stock saw a gain of 1.5%.
In terms of earnings per share (EPS), Truist reported adjusted EPS of $0.84 for Q3, slightly higher than the average analyst estimate of $0.83. This figure represents a decrease from both Q2 and Q3 2022. Including merger-related and restructuring charges of $75 million, or $0.04 per share, the GAAP EPS for Q3 2023 was $0.80.
Net interest income for the quarter was $3.62 billion, down from $3.68 billion in the previous quarter and $3.78 billion a year ago. However, the core net interest margin increased slightly to 2.90% from 2.85% in Q2, but still lower than 3.02% in Q3 2022.
Non-interest income for Q3 was $2.11 billion, lower than the previous quarter's $2.29 billion but higher than the $2.10 billion reported a year ago. Insurance income for the quarter was $793 million, a decrease from Q2 but an increase from Q3 2022.
Truist's non-interest expense remained unchanged at $3.75 billion compared to the previous quarter, and increased from $3.61 billion from a year ago.
Truist Chairman and CEO, Bill Rogers, stated, "The transformative work we announced in the third quarter to improve our financial performance is well underway. We are driving swift and meaningful actions to simplify our organization and reduce expenses."
Adjusted pre-provision net revenue for the quarter was $2.19 billion, down 9.4% from Q2 due to lower net interest income, a seasonal decrease in insurance income, and a reduction in deposit service charge fees of $87 million.
The provision for credit losses in Q3 was $M, lower than both Q2 and Q3 2022. The net charge-off rate increased compared to the prior quarter and year ago.
As of Q3, average total deposits increased slightly to $401 billion, while average total loans and leases held for investment decreased to $318 billion.
Truist Financial conducted its conference call at 8:00 AM ET.
Prior to this announcement, Truist Financial reported non-GAAP EPS of $0.84, beating expectations by $0.01, with revenue of $5.73 billion surpassing estimates by $20 million.