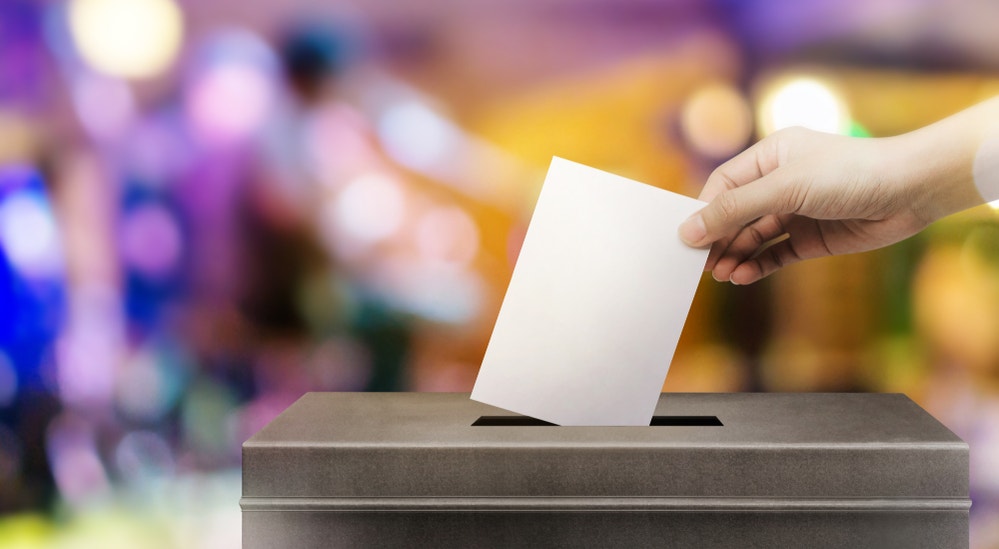 Donald Trump and Joe Biden could find themselves facing off once again in the 2024 presidential election in a rematch of the 2020 presidential election, which saw Biden emerge victoriously.
One of the key items in what is expected to be a tight race could be the swing states that might be easier for a candidate to flip.
What Happened: In a recent Morning Consult poll, Biden was beating Trump by two basis points among U.S. voters. The election poll continued a trend that has seen Biden come out victorious in hypothetical matchups against the former president by the poll maker.
A new poll showed that while Biden may lead Trump in the overall 2024 election race, he has some ground to make up among swing state voters.
Morning Consult polled voters on behalf of Bloomberg News in the swing states of Arizona, Georgia, Michigan, Nevada, North Carolina, Pennsylvania and Wisconsin.
In the poll of Biden vs. Trump, voters made the following selections:
Donald Trump: 47%
Joe Biden: 43%
Don't Know: 6%
Wouldn't Vote: 4%
Trump had a lead of four points in the poll and also dominated when the poll was broken out into different demographics.
Trump was selected by more females (45% to 43%) and by more men (49% to 43%) and won every age demographic. Here's a look at the votes by age group:
18-34: 44% Trump, 43% Biden
35-44: 49% Trump, 41% Biden
45-64: 47% Trump, 43% Biden
65+: 48% Trump, 44% Biden
Biden was selected more than Trump among voters who had a college degree and Black voters.
The poll also found 14% of previous Biden supporters from the 2020 election were now voting for Trump or not backing the president. In the poll, 9% of former Trump voters were voting for Biden or choosing another option.
Poll respondents were also asked what they thought about the economy under Biden, specifically about his Bidenomics policy and if they thought it was good or bad.
Forty-nine percent said they thought it was bad, 26% said they thought it was good, 10% said it has no impact on the economy and 15% said they don't know.
The poll found Trump was more trusted than Biden when it came to topics on the economy including the overall economy, stock market, interest rates, jobs and housing.
Related Link: Donald Trump Loses Support In Latest GOP Poll, Lead Narrows 
Why It's Important: The poll showed Biden might face a major challenge of convincing voters to select him for reelection in the face of high inflation, high interest rates and many economic issues affecting consumers.
Here's a look at how the swing states voted in the 2020 election that saw Biden defeat Trump.
Arizona: Biden (flipped from Trump)
Georgia: Biden (flipped from Trump)
Michigan: Biden (flipped from Trump)
Nevada: Biden
North Carolina: Trump
Pennsylvania: Biden (flipped from Trump)
Wisconsin: Biden (flipped from Trump)
Biden won the majority of the swing states in the 2020 election and was able to flip many of them from previously being won by Trump in the 2016 presidential election.
The results of the poll could be bad news for Biden nearly a year ahead of the 2024 presidential election.
Swing states are expected to be a large focus and will likely see heavy campaigning from both candidates and advertising spending in the territories.
Benzinga previously shared a report predicting the 2024 election cycle to hit a new record of $10.2 billion in ad spending, up 13% from the 2020 election.
The report said the seven swing states would see the heaviest ad spending, making up around 75% of the total ad spending for the presidential election. All seven states were decided by 3% or less in the 2020 election.
With heavy advertising spending expected for the 2024 election races, media companies that sell ad slots could stand to benefit from the cycle.
The list of media companies that could benefit includes national television networks owned by Paramount Global PARAPARAA, Comcast Corporation CMCSA, Fox Corp. FOXFOXA and Walt Disney Co DIS.
Local media station owners such as Gray Television, Inc. GTN, Nexstar Media Group Inc NXST, Tegna Inc TGNA and E.W. Scripps Co SSP could also benefit from the increased advertising spending.
Read Next: 2024 Presidential Election Betting Odds: Trump Now The Favorite 
Photo: Shutterstock