In today's financial landscape, companies with robust cash-generating capabilities hold a distinct advantage. Their resilience in navigating economic volatilities, seizing growth prospects, and instilling investor confidence is unparalleled. Undeniably, cash reigns supreme in the realm of finance.
Amidst this backdrop, three mega-cap tech behemoths – Microsoft (MSFT), Alphabet (GOOGL), and Apple (AAPL) – exemplify the epitome of cash-generating prowess, driving substantial market gains in 2023. Let's delve into the individual narratives of these tech titans to understand their cash-generating might.
The Resurgence of Apple
Apple, a perennial investor favorite, has witnessed a remarkable resurgence in 2023, with its stock soaring over 40%. This upturn follows its latest quarterly report, where Apple outperformed the Zacks Consensus EPS Estimate by 5% and demonstrated revenue that surpassed expectations.

Notably, Apple surged ahead with a substantial free cash flow of approximately $19.4 billion in its recent period. The company's Services revenue stream has been a pivotal driver of its growth trajectory, with Services revenue reaching $22.3 billion, surpassing estimates and exhibiting a robust year-over-year increase.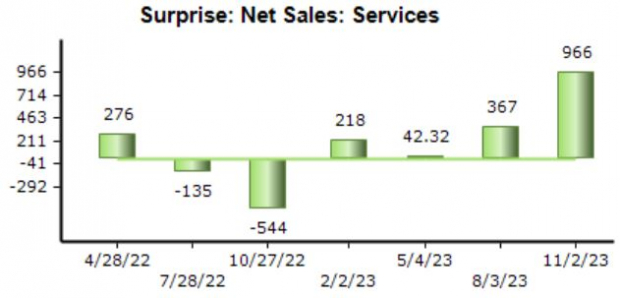 Microsoft's AI Fueled Ascendancy
Microsoft's stock has reaped the rewards of the AI boom in 2023, marking an over 50% surge. Analysts, recognizing its earnings potential, have bolstered their expectations, propelling Microsoft to a favorable Zacks Rank #2 (Buy).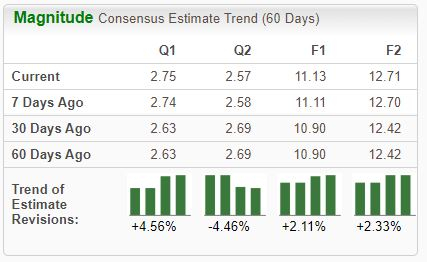 Furthermore, Microsoft's cash-flow prowess is evident with a substantial $20.7 billion generated in the latest quarter, reflecting a remarkable 22% increase from the prior year. Projections for the company indicate a steady upward trajectory in both revenue and earnings, underscoring its robust financial standing.

Alphabet's Stellar Momentum
Amid the broader tech resurgence in 2023, Alphabet has witnessed an impressive uptick, with its shares surging nearly 50%. Analyst sentiment for its current fiscal year remains overwhelmingly positive, with the Zacks Consensus EPS Estimate marking a 13% increase from the previous year.

Alphabet's quarterly free cash flow stands at a formidable $22.6 billion, exhibiting a striking 40% surge from the corresponding period in the previous year. Moreover, the company has upheld its cash-generating consistency post-pandemic, signaling its unwavering financial fortitude.

Embracing the Bottom Line
Companies endowed with formidable cash-generating prowess present compelling investment opportunities, as they possess the resources to fuel expansion, distribute dividends, and alleviate debts with ease. Importantly, their resilience in the face of economic downturns is a testament to their enduring value.
Acknowledging these aspects, Microsoft (MSFT), Apple (AAPL), and Alphabet (GOOGL) undeniably stand out as stellar cash-generating champions.
Zacks Names #1 Semiconductor Stock
Seize the opportunity to explore this promising chip stock that possesses substantial potential for growth. With a burgeoning customer base and robust earnings expansion, it stands primed to cater to the burgeoning demand for Artificial Intelligence, Machine Learning, and Internet of Things.
Unveil Zacks Investment Research's Latest Recommendations
Apple Inc. (AAPL): Free Stock Analysis Report
Microsoft Corporation (MSFT): Free Stock Analysis Report
Alphabet Inc. (GOOGL): Free Stock Analysis Report
Read the Original Article on Zacks.com
The views and opinions expressed herein are the views and opinions of the author and do not necessarily reflect those of Nasdaq, Inc.