Verona Pharma's Ensifentrine: A Game-Changer for Respiratory Disease Treatment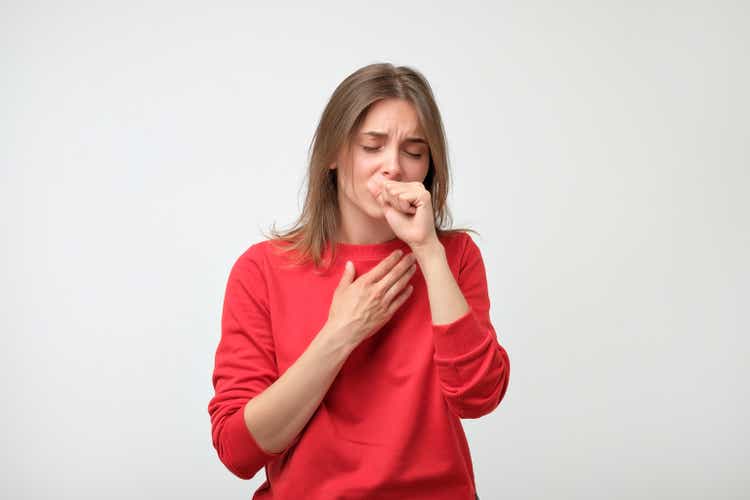 Verona Pharma (NASDAQ:VRNA) is a biopharmaceutical company based in London with offices in the US. VRNA´s main candidate drug is ensifentrine, a promising treatment for patients suffering from COPD, cystic fibrosis, and asthma. This medicine is a bronchodilator and non-steroidal anti-inflammatory agent that has demonstrated promising results in clinical trials. In over a decade, ensifentrine constitutes the first major advancement in respiratory therapy, making it VRNA's crown jewel. Ensifentrine has been granted a PDUFA date in June 2024, and VRNA is prepared for commercialization post-FDA approval around 2H 2024. In my view, I think there are inherent risks related to VRNA's nature as a pre-revenue biopharmaceutical company. However, ensifentrine's tangible use and market are undeniable valuation drivers that suggest it's a good "buy" at these levels.
Business Overview
Verona Pharma is a biopharmaceutical company headquartered in London, UK, with offices in Raleigh and Savannah in the US. The company aims to improve the health and quality of life of millions affected by chronic respiratory diseases, focusing on developing and commercializing innovative therapies for unmet medical needs to alleviate these illnesses. If successfully developed and approved, VRNA's product candidate, ensifentrine, can be the first therapy for treating respiratory diseases that combines bronchodilator and non-steroidal anti-inflammatory activities in one compound, the first novel treatment for these illnesses in over a decade. This product is an inhaled therapy that opens the patient's airways and reduces the lungs' inflammation to provide relief from conditions such as chronic obstructive pulmonary disease ((COPD)), cystic fibrosis ((CF)), and asthma.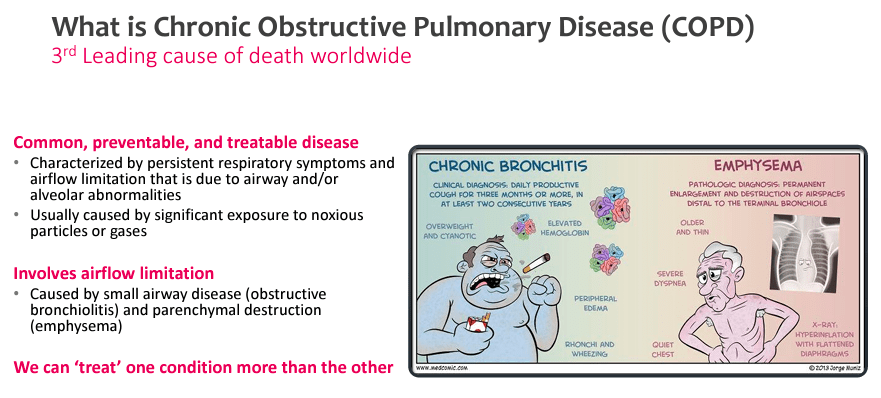 Ensifentrine was successfully evaluated in the Phase 3 ENHANCE clinical trials for the maintenance treatment of COPD. Ensifentrine met the primary endpoint in ENHANCE-1 and ENHANCE-2 trials, demonstrating improvements in lung function.
In addition to the United States, VRNA is expanding its market to China. The company is also advancing two new clinical programs. The first presents a combination of ensifentrine with glycopyrrolate for (COPD) maintenance treatment, and the second is a trial for non-cystic fibrosis bronchiectasis.
VRNA's Market Context and Dynamics
It's also worth noting that COPD affects more than 380 million patients worldwide, and it is the third leading cause of death worldwide. VRNA's target market would be the population being treated for COPD symptoms in the US, which is estimated to be approximately 8.6 million patients treated chronically, corresponding to approximately $10.0 billion in maintenance treatments for this disease. The prevalence of COPD in the EU is roughly 66 million patients. In China, the prevalence is estimated at around 100 million.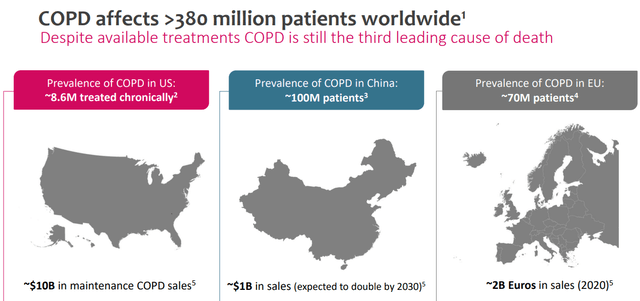 The potential competitors for ensifentrine in the COPD and asthma treatment markets are plentiful. GlaxoSmithKline, Boehringer Ingelheim, AstraZeneca, Novartis, Pfizer, Teva Pharmaceutical Industries, Chiesi Farmaceutici, and Mylan's Viatris all compete in the market.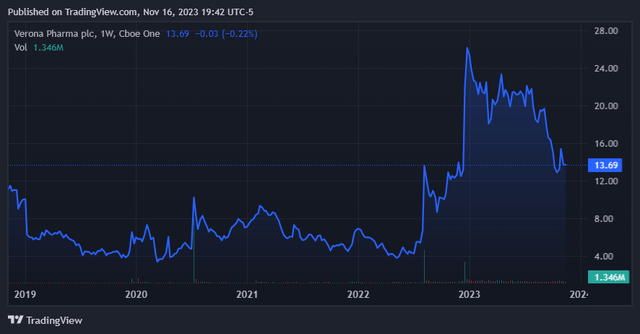 However, ensifentrine can be an add-on therapy complementary to the maintenance therapy that the patients are currently receiving. Patients who are in maintenance therapy can use ensifentrine not necessarily to replace the current treatment but in addition to it as an effective supplementary treatment.
Therefore, ensifentrine could capture a significant portion of the COPD treatment market, appealing to many patients due to unmet medical needs and the hope for new, more efficient therapies. It is worth noticing that ensifentrine is not a typical COPD treatment; it is a novel treatment option for COPD that is neither a LAMA, LABA, nor an ICS medication. It is a first-in-class drug with a unique mechanism of action because it is a dual inhibitor of the enzymes phosphodiesterase 3 (PDE3) and phosphodiesterase 4 (PDE4).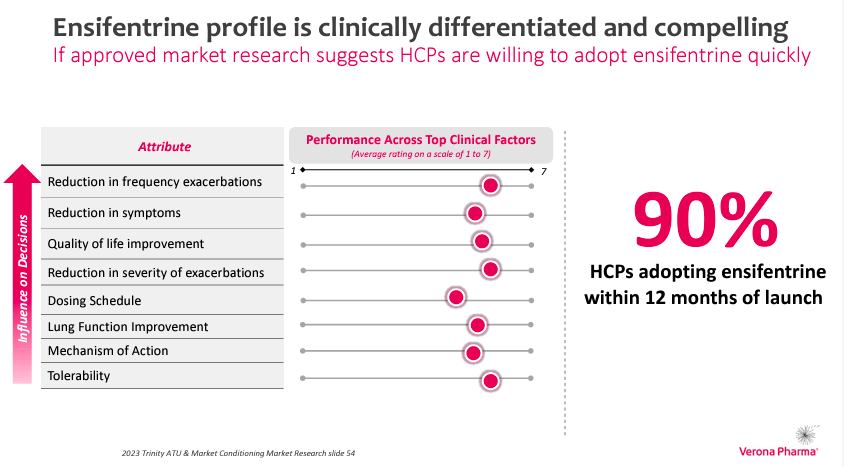 Solid Footing Prior Ensifentrine's Launch
Recently, VRNA reported on November 2, 2023, a solid foundation for ensifentrine commercialization upon FDA approval in the PDUFA date on June 26. They are funded through at least the end of 2025, with their current financial resources of $257.4 million in cash, plus some expected UK tax credits. VRNA also has $130.0 million in potential future draws from a debt facility, which should provide enough funding for the next twelve months.
Still, VRNA registered a net loss of $14.7 million, a decrease compared to the same period in 2022. Moreover, R&D costs were significantly lower than in the previous year. For context, for the quarter ending September 2023, VRNA spent about $3.0 million in R&D, compared to the same quarter in 2022, where the figure was $9.8 million.
Meanwhile, SG&A expenses increased, mostly due to increased preparations for the potential commercial launch of the ensifentrine​​. So, this seems to suggest that VRNA is now gearing up for its commercialization stage, and the financial posturing backs this up. Indeed, their latest quarterly filing says VRNA aims to begin commercialization in 2024, subject to the approval of its NDA (New Drug Application).
Upside Valuation Potential
The valuation equation of VRNA is rather simple, though still somewhat speculative. As you might imagine, the company is still pre-revenue, but ostensibly, it's on the cusp of starting to be profitable in 2H 2024. However, we must grasp VRNA's current pricing against its revenue potential to determine if it's a good investment.
Using the company's estimates, I calculate that VRNA's peak sales could be roughly $2.1 billion to $3.6 billion annually. After adjusting implied EV estimates for VRNA's cash and debt, we can get a rough back-of-the-envelope valuation estimate for its market cap. I estimate that the median present value for VRNA should be around $5.0 to $8.4 billion, which is between a 338.7% to a 631.4% upside potential from current levels.
Risks to the Investment Thesis
At this point, the principal risk for VRNA is not receiving FDA approval on June 26, 2024. If there are delays or negative outcomes from the FDA, it would be detrimental to the company's financial projections. Another risk is that VRNA may need help scaling production to meet market demands; shortages produced for several reasons will impact revenues and market presence.
Conclusion
Overall, the company is an interesting investment in the sector. Its key product, ensifentrine, is promising and versatile from a market penetration perspective. It can be either a standalone treatment or a complement to the current treatment regimens for COPD patients. Moreover, it's the first meaningful new product developed for this affliction in roughly a decade, meaning its market and patient base will likely be receptive to VRNA's latest offering. I think the upside is evident and undeniable from a valuation potential analysis. This is why it is worth rating it a "buy" at this level is worth rating.