"Vertiv Holdings Co (VRT) is a digital infrastructure and continuity solutions provider that's crushed our bottom-line estimates and boosted its guidance during the first three quarters of 2023, including a big beat-and-raise Q3 near the end of October.
Vertiv stock has skyrocketed to new highs over the last 12 months, topping Meta's run and nearly matching Nvidia. Yet VRT trades at a solid discount to the wider Zacks Tech sector and its own highs. Wall Street also loves that Vertiv is benefitting from the broader AI investment cycle as companies big and small race to increase their computing capacity.
The Heartbeat of Technology
Vertiv's various products, services, and solutions are designed to help keep its customers' vital applications running "continuously, perform optimally, and grow with their business needs." The Ohio-based company's portfolio of power, cooling, and IT infrastructure solutions and services operates across data centers, communication networks, commercial and industrial facilities, and beyond.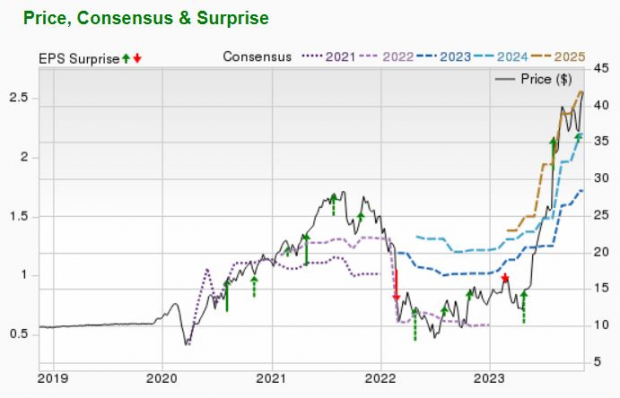 Image Source: Zacks Investment Research
Vertiv's product categories include critical power, thermal management, racks & enclosures, and monitoring & management, while its services range from DC power and electrical reliability to safety and compliance and much more. The company and its other solutions serve small and medium-sized businesses as well as enterprises across healthcare, retail, telecom, education, and various other parts of the economy.  
Simply put, if investors think about data centers, communication networks, and other critical technology as highly complex systems, Vertiv's role is to provide the behind-the-scenes tech that keeps everything working properly and running smoothly.
Growth and Future Prospects
Vertiv went public via a SPAC in early 2020, posting 14% revenue growth during its first two full years as a public firm. VRT grew its Q3 FY23 revenue by 18% and it closed the period with a record-high $5 billion backlog.
The company's adjusted operating margins climbed from 9.1% in the year-ago period to 17% in Q3, driven by "benefits from pricing, volume and productivity partially offset by net inflation and growth investments in R&D and capacity." Vertiv posted an impressive beat and raise period on October 25, boosting its guidance for all of its key financial metrics because its "end markets remain healthy and momentum continues."


Image Source: Zacks Investment Research
Wall Street is gravitating to all things AI, and Vertiv is poised to benefit from the ongoing investment and a possible artificial intelligence supercycle. "We are still in the early stages, but the industry is gearing up to deploy the data center infrastructure needed to meet the compute capacity that AI is demanding," CEO Giordano Albertazzi said in prepared remarks.
Zacks estimates call for VRT's revenue to climb 20% this year and 9% higher in 2024 to hit $7.47 billion. Better yet, its adjusted earnings are projected to soar by 225% and 28%, respectively, from $0.53 a share last year to $2.20 in FY24.
Vertiv's FY23, FY24, and FY25 EPS estimates have surged to help it land a Zacks Rank #1 (Strong Buy) right now. VRT's FY23 consensus has climbed 68% over the last year from $1.02 a share to the current consensus of $1.72, with its FY24 outlook 80% higher during this stretch.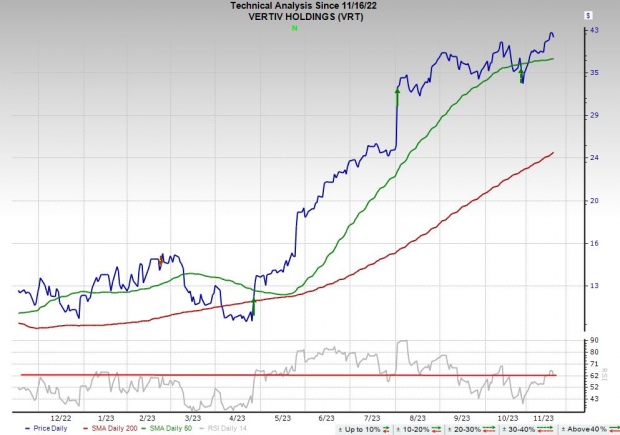 Image Source: Zacks Investment Research
Performance, Technical Levels & Valuation
Vertiv shares have skyrocketed a whopping 205% during the past 12 months to top Meta's (META) 198% and nearly match Nvidia's (NVDA) 213% climb. VRT has climbed by 131% over the last three years vs. the Zacks Tech sector's 24% and its industry's -1% decline.
VRT touched new all-time highs on November 15 and it still trades below its average Zacks price target. Vertiv currently trades solidly above its 50-day moving average and it has fallen from way above overbought RSI levels to closer to neutral over the last several months.


Image Source: Zacks Investment Research
Despite its outperformance, Vertiv trades at a 36% discount to its industry and roughly 15% below the Zacks Tech sector at 20.4X forward 12-month earnings. This also represents 18% value vs. its own highs.
Concluding Thoughts
Vertiv operates in a somewhat unglamorous area of tech that is of vital and constant importance, which turns out to be a striking combination. Wall Street is very high on the stock, with nine of the 10 brokerage recommendations Zacks has for Vertiv coming in at "Strong Buys."
Zacks Reveals ChatGPT "Sleeper" Stock
One little-known company is at the heart of an especially brilliant Artificial Intelligence sector. By 2030, the AI industry is predicted to have an internet and iPhone-scale economic impact of $15.7 Trillion.
As a service to readers, Zacks is providing a bonus report that names and explains this explosive growth stock and 4 other "must buys." Plus more.
Download Free ChatGPT Stock Report Right Now >>
Want the latest recommendations from Zacks Investment Research? Today, you can download 7 Best Stocks for the Next 30 Days. Click to get this free report
NVIDIA Corporation (NVDA) : Free Stock Analysis Report
Vertiv Holdings Co. (VRT) : Free Stock Analysis Report
Meta Platforms, Inc. (META) : Free Stock Analysis Report
To read this article on Zacks.com click here.
The views and opinions expressed herein are the views and opinions of the author and do not necessarily reflect those of Nasdaq, Inc.