Vornado Realty Trust VNO continues to hold a strong position in the market, with premium office properties in key locations like New York, Chicago, and San Francisco. Despite uncertainties in the broader economy and variable office market conditions, Vornado remains well-positioned to benefit from the robust demand for high-quality office spaces with top-tier amenities.
The Silver Lining
Vornado's strategic focus on properties in high-barrier-to-entry markets, combined with a diversified tenant base, is expected to drive stable cash flows and long-term growth. The growth of technology, finance, and media firms, along with enhanced space efficiency, is set to bolster rental revenues in the future. New York, in particular, continues to attract office occupiers seeking to expand their workspace.
Rents in newly constructed or excellently redeveloped assets with ample amenities have seen an upward trend. Vornado, known for its premium office spaces, is positioned to capitalize on this trend. Additionally, the company's ongoing efforts in opportunistic expansions and divestitures, along with strategic business spin-offs, will provide resources for reinvestment in development projects.
Furthermore, Vornado boasts a robust balance sheet with $3.2 billion in liquidity as of September 30, 2023. The company has also been actively securing loan refinancing, enabling it to reduce interest rates and extend debt maturities. This financial flexibility will allow Vornado to seize future investment opportunities and fund development projects.
Over the past three months, VNO shares have outperformed the industry, gaining 5.8% compared with a 0.4% industry rise.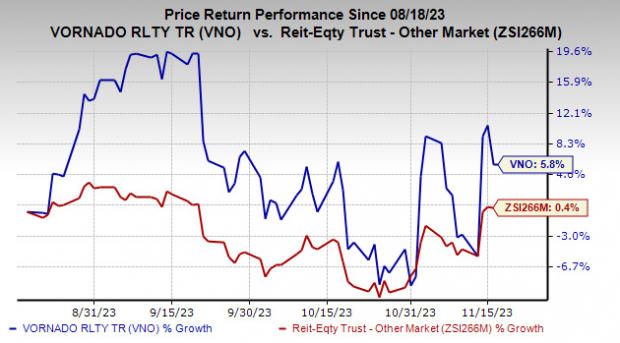 Image Source: Zacks Investment Research
The Dark Cloud
While Vornado shows promise, it faces headwinds due to ongoing macroeconomic uncertainties and volatile office market conditions, which could impact leasing activity in the near term.
One significant concern is the current high interest rate environment, leading to substantial borrowing expenses for the company. As of September 30, 2023, Vornado carried a significant debt load, amounting to nearly $10.3 billion. Additionally, high interest expenses during the third quarter of 2023 affected the company's FFO per share growth.
In a disappointing move, VNO announced a 29.2% cut in its quarterly cash dividend per share from 53 cents to 37.50 cents in January 2023. The company also postponed its dividend payment until the end of the year, subject to its taxable income for 2023.
Stocks to Explore
For investors seeking alternatives, other promising stocks in the REIT sector include Welltower WELL, EastGroup Properties EGP, and Stag Industrial STAG, each carrying a Zacks Rank #2 (Buy).
The Zacks Consensus Estimate for these companies showcases positive movements reflecting their potential for growth.
Note: Anything related to earnings represents funds from operations (FFO), a widely used REIT performance metric.
Zacks Reveals ChatGPT "Sleeper" Stock
Discover an under-the-radar company at the heart of the explosive Artificial Intelligence sector. By 2030, the AI industry is predicted to have an internet and iPhone-scale economic impact of $15.7 Trillion.
Zacks is providing a bonus report to help investors navigate this opportunity and other "must buys".
Download Free ChatGPT Stock Report
Looking for more insights? Access the latest recommendations from Zacks Investment Research.
Get 7 Best Stocks for the Next 30 Days
For more details, read the full article on Zacks.com.
The opinions expressed herein are those of the author and do not necessarily reflect those of Nasdaq, Inc.