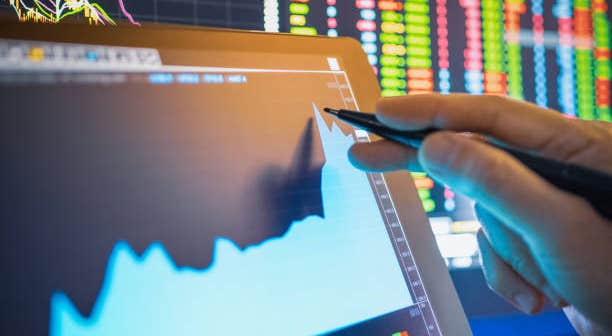 Gainers
Apollomics, Inc.

APLM

shares surged 88.4% to $1.07 stoma multiforme with PTPRZ-MET fusion.
BIO-key International, Inc.

BKYI

jumped 53.5% to $0.2620 after the company said ALPI Portugal Lda. has deployed AuthControl Sentry company-wide for enhanced data access security through BIO-key.
SeaStar Medical Holding Corporation

ICU

shares climbed 42.5% to $1.1284. SeaStar Medical Holding said it is requesting to withdraw the registration statement because it has elected not to pursue the sale of securities pursuant to the registrant statement at this time due to prevailing market conditions.
NerdWallet, Inc.

NRDS

gained 27.7% to $8.48 following strong quarterly results.
ImmunityBio, Inc.

IBRX

climbed 26% to $2.58 after surging around 30% on Thursday. The FDA accepted ImmunityBio's resubmission of its Biologics License Application for N-803 as complete.
Integrated Media Technology Limited

IMTE

jumped 19.5% to $2.2836.
Deckers Outdoor Corporation

DECK

climbed 16.4% to $563.86 after the company reported better-than-expected second-quarter sales results. The company also raised FY24 EPS and net sales guidance above estimates.
REE Automotive Ltd.

REE

gained 15.5% to $3.2599.
Brera Holdings PLC

BREA

gained 14.4% to $0.71.
PennyMac Mortgage Investment Trust

PMT

jumped 14.1% to $12.23 following strong results.
Customers Bancorp, Inc.

CUBI

rose 14.1% to $38.50 following better-than-expected quarterly earnings.
ArcBest Corporation

ARCB

climbed 13.5% to $99.87 following upbeat earnings.
MicroCloud Hologram Inc.

HOLO

surged 12.5% to $0.5850.
AppFolio, Inc.

APPF

gained 11.8% to $197.75 after reporting better-than-expected results.
Comfort Systems USA, Inc.

FIX

jumped 11.3% to $170.97 following third-quarter results.
FLJ Group Limited

FLJ

shares rose 11.1% to $0.29 after dipping 23% on Thursday. FLJ Group recently entered into a definitive agreement to acquire Lianlian Holdings Inc.
Intel Corporation

INTC

surged 11% to $36.11 as the company reported better-than-expected results for its third quarter and issued strong guidance for the current quarter.
NKGen Biotech, Inc.

NKGN

shares gained 10.6% to $4.18 after gaining 8% on Thursday. NKGen Biotech presented Phase I clinical trial data at the 16th Annual Clinical Trials on Alzheimer's Disease Conference.
The Oncology Institute, Inc.

TOI

climbed 10.6% to $1.8920.
Capital One Financial Corporation

COF

climbed 10.1% to $98.54 after the company reported better-than-expected third-quarter financial results.
Secoo Holding Limited

SECO

gained 9.3% to $0.9947.
DexCom, Inc.

DXCM

rose 9% to $88.39 after the company reported strong third-quarter results and announced a $500 million buyback.
Stanley Black & Decker, Inc.

SWK

climbed 8.5% to $83.85 after the company reported mixed third-quarter financial results and raised FY23 adjusted EPS guidance.
Amazon.com, Inc.

AMZN

shares gained 7.5% to $128.57 after the company reported stronger-than-expected results for its third quarter. The company said it sees fourth-quarter revenue between $160 billion and $167 billion.
Losers
Siyata Mobile Inc.

SYTA

shares fell 48.1% to $0.67 as the company reported pricing of $1.6 million public offering of common shares.
reAlpha Tech Corp.

AIRE

dipped 42.8% to $28.50.
Medicenna Therapeutics Corp.

MDNA

fell 35.4% to $0.1619 as the company announced Nasdaq delisting and cutback of management team.
Fujian Blue Hat Interactive Entertainment Technology Ltd.

BHAT

declined 37% to $1.6326.
Vivos Therapeutics, Inc.

VVOS

declined 35.2% to $4.20. Vivos Therapeutics, on Thursday, announced a 1-for-25 reverse stock split.
Barnes Group Inc.

B

fell 27.7% to $21.62 as the company posted downbeat third-quarter earnings and lowered FY23 outlook.
Benson Hill, Inc.

BHIL

dipped 25% to $0.1808.
Biotricity, Inc.

BTCY

declined 24% to $1.45.
La Rosa Holdings Corp.

LRHC

fell 22.3% to $1.25.
Tempo Automation Holdings, Inc.

TMPO

dropped 21.9% to $0.1019.
TransCode Therapeutics, Inc.

RNAZ

fell 21.3% to $0.3271 after the company announced a public offering of common stock.
Betterware de México, S.A.P.I. de C.V.

BWMX

declined 21% to $13.47 following third-quarter results.
Rail Vision Ltd.

RVSN

fell 19.4% to $0.29.
ADDvantage Technologies Group, Inc.

AEY

shares fell 18.4% to $0.2580 after dipping 16% on Thursday.
Chart Industries, Inc.

GTLS

fell 18.3% to $119.75 following weak earnings.
Exponent, Inc.

EXPO

fell 17.8% to $69.80 following weak quarterly earnings.
Sanofi

SNY

shares fell 17.4% to $44.01 after the company reported mixed third-quarter financial results and announced it intends to separate its Consumer Healthcare Business.
Kinsale Capital Group, Inc.

KNSL

declined 17.2% to $353.02 following weak sales results.
ACM Research, Inc.

ACMR

fell 17.2% to $14.55. ACM Research said it sees preliminary third-quarter revenue of $165 million to $168 million.
GSE Systems, Inc.

GVP

shares fell 16.4% to $0.1375 after announcing a reverse stock split.
Enphase Energy, Inc.

ENPH

shares fell 15.3% to $81.46 after the company reported lower third-quarter revenue and issued weak guidance for the fourth quarter.
Nuvve Holding Corp.

NVVE

fell 14.9% to $0.20. Nuvve Holding announced closing of $2.066 million registered direct offering priced at-the-market.
Genelux Corporation

GNLX

declined 11.7% to $14.95.
NatWest Group plc

NWG

shares fell 11.5% to $4.49 after the company reported third-quarter earnings and lowered its full-year net interest margin forecast.
Ford Motor Company

F

fell 9.6% to $10.26 as the company posted weaker-than-expected earnings for its third quarter.
Community Health Systems, Inc.

CYH

declined 9.4% to $2.1550.
The Boston Beer Company, Inc.

SAM

fell 7.3% to $338.17 following quarterly results.
Saia, Inc.

SAIA

fell 6.1% to $354.00 after reporting third-quarter results.
Now Read This: Top 4 Tech And Telecom Stocks That May Explode This Month
---