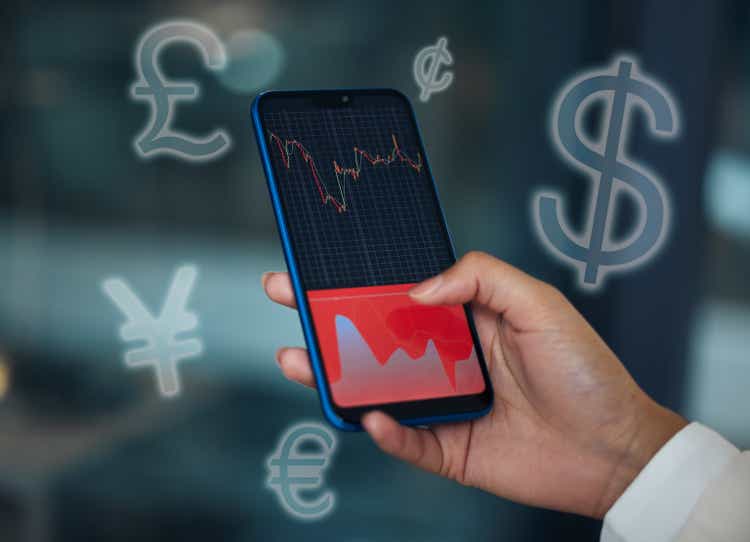 Introduction
DLocal (NASDAQ:DLO) is a cross-border payment processor that connects global merchants to emerging markets. In my opinion, dLocal is a strong buy recommendation due to its competitive advantages in the industry and successful growth strategy. Despite risks associated with political, regulatory, and currency fluctuations, the company has demonstrated a strong track record of innovation and expansion. With over 900 local payment methods, dLocal offers a simple, scalable, and secure solution for merchants to accept and make payments in over 40 emerging markets.
Business Overview
dLocal is a cross-border payment processor that connects global merchants to emerging markets. It offers a one-stop-shop solution for merchants to accept and make payments in over 40 emerging markets, using over 900 local payment methods. dLocal's platform is designed to be simple, scalable, and secure, making it ideal for global enterprise merchants operating in emerging markets. dLocal's services include:
Pay-in: dLocal enables global merchants to accept consumer payments in emerging markets using various local payment methods, including credit and debit cards, bank transfers, eWallets, and cash payments.

Pay-out: dLocal enables global merchants to pay suppliers and contractors in emerging markets using various local payment methods.

Currency conversion: dLocal offers competitive currency conversion rates and helps merchants manage foreign exchange risk.

Fraud prevention: dLocal uses various measures to protect merchants from fraud and chargebacks.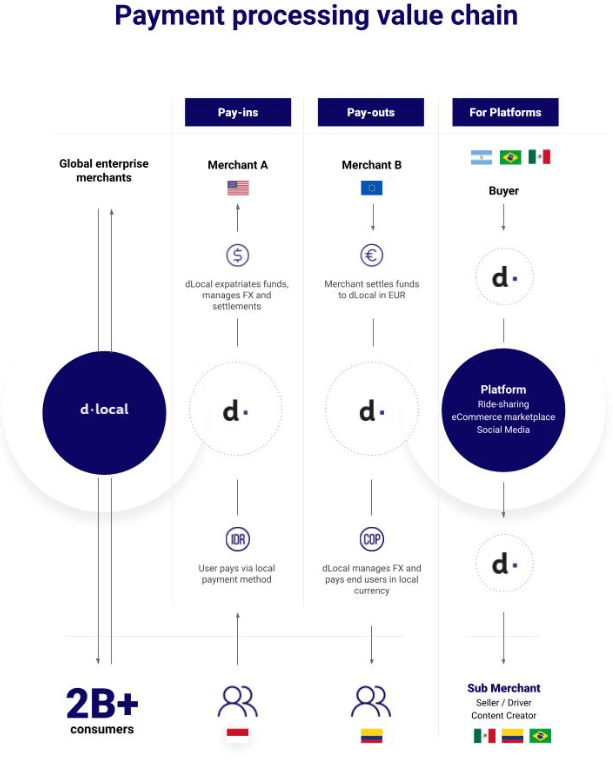 dLocal offers several critical benefits to global enterprise merchants operating in emerging markets, including:
Simplified payments: dLocal provides merchants with a single API and technology platform to accept and make payments in over 40 emerging markets, using over 900 local payment methods. This simplifies the payment process for merchants and reduces their operational costs.

Improved acceptance rates: dLocal has high acceptance rates for card payments and alternative payment methods (APMs) in emerging markets. This helps merchants to increase their sales and reach a broader customer base.

Reduced friction: dLocal's platform is designed to be user-friendly and seamless for both merchants and consumers. This helps to reduce friction in the payment process and improve the overall customer experience.

Enhanced fraud protection: dLocal uses various fraud prevention measures to protect merchants from fraud and chargebacks. This gives merchants peace of mind and allows them to focus on their business.
dLocal is well-positioned to capitalize on the growth of e-commerce and online payments in emerging markets. The company has a strong track record of growth and innovation, and leading venture capital firms back it. dLocal is also expanding its presence into new emerging markets and developing new products and services to meet the needs of its customers.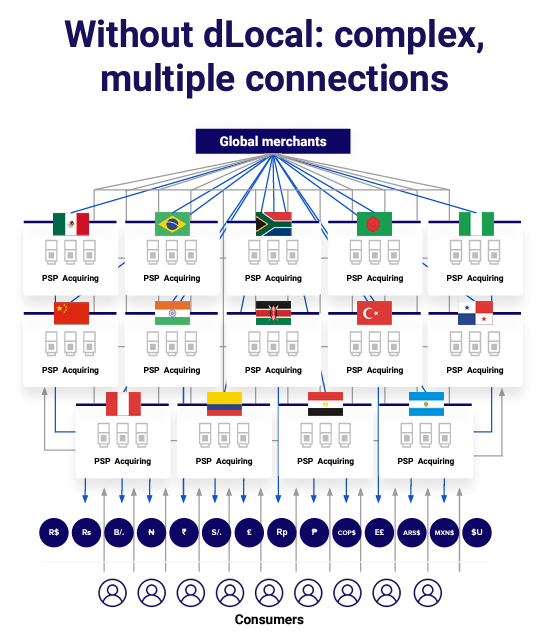 Overall, dLocal is a leading provider of cross-border payment solutions for global enterprise merchants operating in emerging markets. The company offers a simplified, secure, and scalable platform that helps merchants increase their sales, reach a broader customer base, and reduce their operational costs.
Cross-Border Payment Industry and Competitive Landscape
The old incumbents in the cross-border payment industry (CBPI) have been banks. Still, in the previous years, they have donated market share to disruptive fintech, such as dLocal, D24, Astro Pay, Adyen (OTCPK:ADYEY), etc. According to the Citigroup Report, over 40% of the banks have lost at least 5% of the market share to fintech, and 89% of them expect to keep being donors in the following 5-10 years. Fintech knew how to improve cross-border services by focusing on transparency, costs, and speed, the main issues experienced by corporate and retail clients working with banks.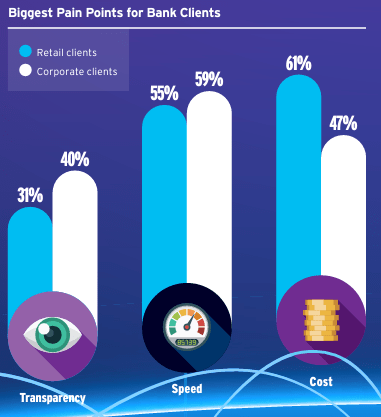 In this sense, a key determinant of success is the integration of APIs in their networks so that clients can manage all their payments more efficiently and through a broad network of providers, improving transparency and costs (selecting the best provider and routing). dLocal founders saw the advantages of integrating all its services into a sole API and technology platform, allowing merchants to manage all their payments and geographies in one platform while fostering transparency and analyses of real-time payment data. Moreover, dLocal keeps integrating into its platform new payment methods, geographies, initiatives (such as Issuing-as-a-service and dLocal for Platforms), and financial partners; the latest allowed it to develop the Smart Routing, which is a system that always selects the most cost-effective way to process payments in dLocal technology platform. From my perspective, the entrepreneurial vision of its founders, Sergio Fogel and Andrés Bzurosvki, allows dLocal to rapidly develop a strong network of merchant and financial partners and substantial competitive advantages. In this sense, I think dLocal's wide profit margins are due to a highly scalable business that benefits from a larger Total Payment Volume (TPV), which in turn is driven by dLocal's focus on transparency and adaptability to merchant needs. For instance, as soon as dLocal has developed a solution for a merchant in a country (let's say the acceptance of a new payment method), the solution can be offered to another merchant with the same problem at a minimal incremental cost, making it highly scalable. Meanwhile, banks must comply with more regulations, slowing the release of new products and services, and face higher costs due to their physical presence and fewer automation processes.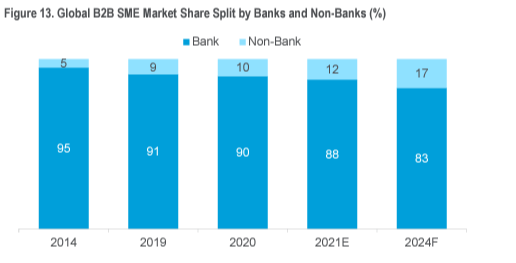 Continuing with the industry, the volume of cross-border payments is expected to reach $250 trillion by 2027, adding $100 trillion compared to 2022. Moreover, the whole industry revenue is expected to increase at a high single digit, according to Citigroup Report. However, most of the market comprises B2B transactions with the lowest margin; these transactions are not the main business of dLocal; instead, they are the B2C and C2B transactions (the latest is expected to be the faster growing segment), which generally carry higher margins, according to McKinsey Report.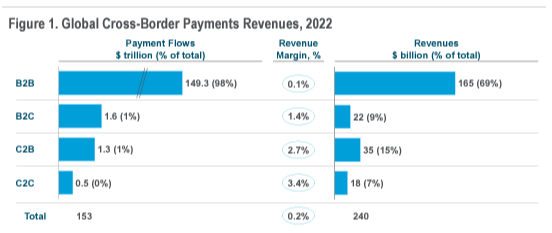 E-commerce will be a crucial driver in the growth of cross-border payments, as the industry is expected to grow at a CAGR of 9%, and the expansion of global logistics decreases transportation prices. Moreover, Asia and Africa are expected to grow faster than other markets (10-15%), reaching a $3.3 trillion volume in e-commerce global payments by 2028. In this sense, e-commerce customers expect to be able to pay with a varying of payment methods at virtually zero costs; thus, I believe the value proposition of dLocal adapts perfectly to the demand of end clients in the e-commerce industry, facilitating payments with any payment method at the lowest costs possible through smart routing. As a confirmation of dLocal's success in both markets, we can observe the three-digit-growth rate in countries like Morocco, Egypt, Indonesia, and the Philippines, and an overall revenue growth of 152% YoY in 2Q23. E-commerce platforms cannot lag in implementing new payment methods, so they will keep partnering with Fintechs to improve consumers' payment experience.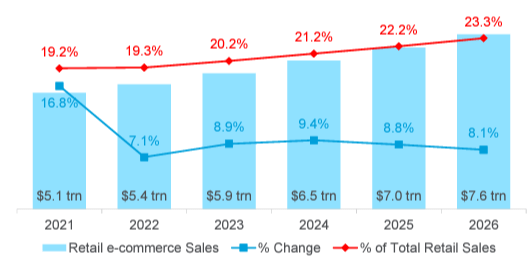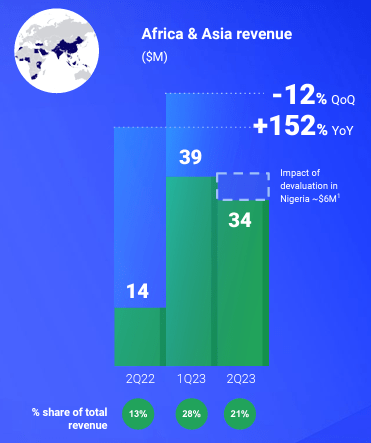 From my perspective, the B2B market could be a significant market for dLocal in the future as most of these transactions are made by banks (through SWIFT), which, even with improvements, can be a slow and costly method due to capital controls, regulatory barriers and antiquate banking infrastructure. Nevertheless, fintech will need to gain more trust from corporate clients if they want to compete against the security given by SWIFT.
Currently, the competitive landscape in the C2B and B2C segments is defined by focusing on customers' payment experience and decreasing fees as banks and fintech try to gain market share by bringing more transparency and payment options at a lower cost for end users.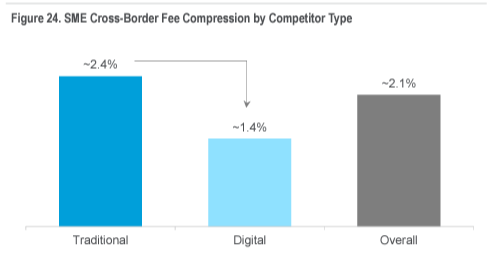 *SME: companies with 50-100 employees.
Furthermore, banks are evaluating how to stay competitive in this environment, and most of them believe that their infrastructures need a substantial change and that they need to revamp front-platforms and clients' experience. Nevertheless, they face some challenges, such as compliance requirements, regulatory framework, and legacy technology. Moreover, Swift Go is an initiative expected to increase transparency in cross-border payments and lower transaction costs, especially for small amount transactions; however, it faces the same challenges named below.

Therefore, banks will likely keep giving up market share to FinTech companies. In this sense, it's crucial to understand how dLocal can outplay other fintech and keep gaining market share in a fast-growing industry. First, the global payments industry is likely to experience the introduction of disruptive technologies, such as cryptocurrency, AI, tokenization, and central bank digital currencies; thus, the degree of uncertainty is high about how the future will be in the next 5-10 years. Second, dLocal faces stiff competition from other fintech with similar services, such as D24 and Astro Pay in Latam and many others in Africa and Asia. For example, more than 12 players are similar to dLocal in countries like Malaysia.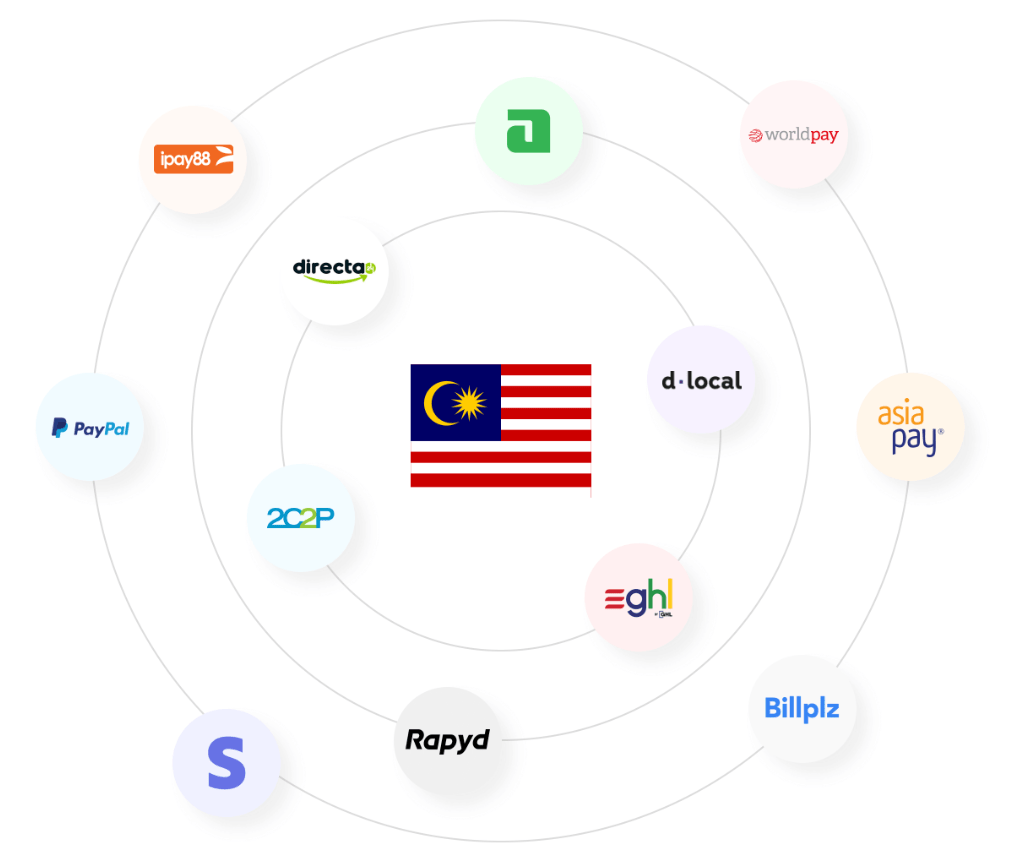 Nevertheless, dLocal's clients make me think dLocal offers the best value for all merchants in the industry. Companies such as Amazon, Uber, Google, Tencent, Microsoft, Shopify, Shein, Nike, and Salesforce, among others, tell us the quality of the service offered by dLocal. For instance, Amazon evaluated the company for two years to verify its security, reliability, and efficiency in processing payments. Moreover, Amazon is not the only merchant doing its due diligence before picking up a cross-border fintech, according to its 10K Report. Hence, in my opinion, there are switching costs in the industry because merchants need to carry out long due diligence processes to determine which provider is the best and because changing from one to another is likely to disrupt the payment processes for clients, affecting the merchant's sales in emerging markets. Moreover, as more merchants use dLocal in more than one country (on average, every merchant uses it in nearly eight countries) and for more than one type of payment method (on average, every merchant uses it for almost 79 different payment methods), it's challenging to find another company that integrates all those payments in just one platform, so local or regional companies play with a tremendous disadvantage compared to dLocal.
Furthermore, dLocal's culture focuses on creating new solutions for clients and constant innovation. It makes sense as a solution for a client can be offered to another business virtually at no incremental costs. As dLocal has access to the needs of the most prestigious clients, it has an information advantage over other companies. It can generate solutions tailored to customers' needs, increasing the switching costs.
In addition, dLocal employees' knowledge about every emerging market and its partnerships with financial institutions allows the company to offer a wide array of payment methods (900) in different countries, adapting to the most-used payment methods in every emerging market and allowing the company to change and adapt to new regulations faster than merchants could do it by themself.
Finally, I think dLocal is well-prepared in case the commission fees keep decreasing, as it has the scale to endure pricing competition thanks to its relatively fixed cost structure and wide profit margins. Moreover, as it keeps growing at high double-digit growth rates, the scalability of the business should increase the profit margins unless competition turns tougher.
Financial Performance
dLocal's competitive advantages in the industry are reflected in an outstanding financial performance since 2016. First, the Total Payment Volume (TPV) through dLocal increased at a CAGR of 107% from 2016 until 2022.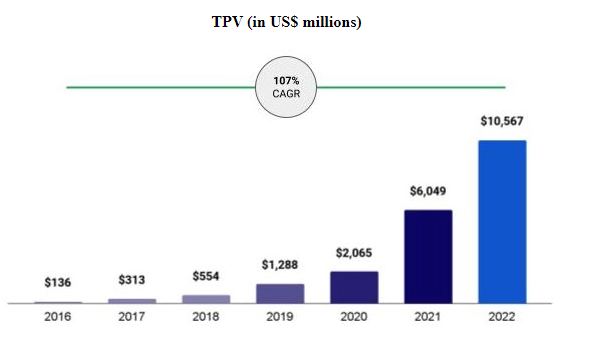 Moreover, in 2Q23, TPV increased by approximately 83.33% YoY. Consequently, the growth rate is decreasing but slowly.

Meanwhile, revenue has grown 101% annually since 2020, and in 2Q23, it increased by 59% YoY and 17% QoQ. During 2020-2022, TPV increased by 126% annually, which I think is an indicator of lower fees charged by dLocal over TPV. Africa and Asia continue to be the markets with the faster growth as they grew 259% in 2022 and 152% YoY in 2Q23, even after accounting for the devaluation of Nigerian Naira. Meanwhile, the Latam market grew by 45% in 2Q23 and 54% in 2022. In both markets, the revenue growth is decelerating, as we can expect after a period of explosive growth.
Nevertheless, I don't expect the company to grow slower than 20% in the next three years because dLocal aims to increase the TPV of its current merchants and attract new merchants every month. Analyzing the growth of the TPV of different cohorts and the Net Retention Revenue Rate (NRR), merchants have increased their TPV every year after they started using dLocal. Moreover, the NRR has been higher than 100%, meaning the company is expanding the revenue per merchant and doesn't rely only on new merchants to increase revenue.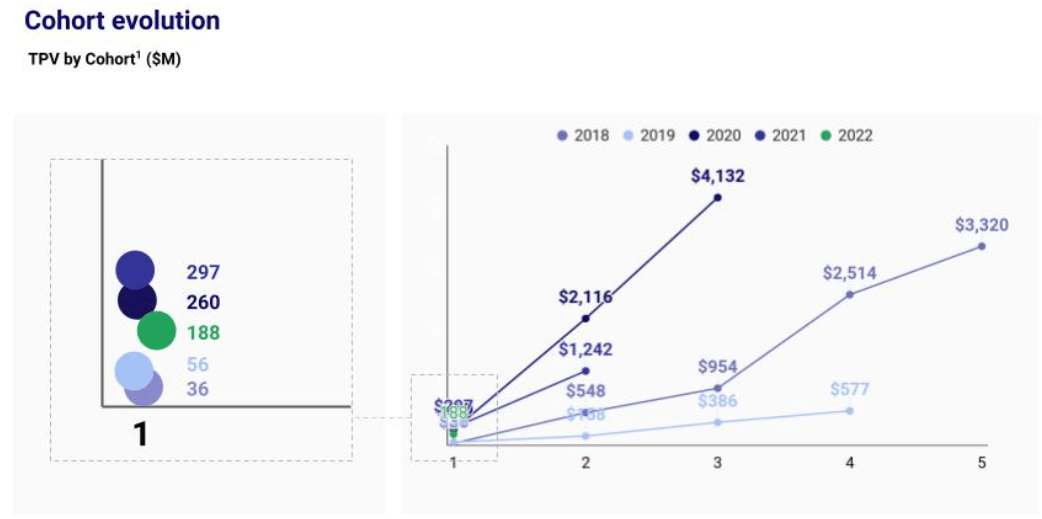 Nonetheless, gross profit and EBIT have grown slower than revenue and TPV, owing mainly to faster cost growth than revenue growth. Even so, I think the company benefits from operating leverage as the EBIT margin remains close to historical levels, even when the gross margin plummeted to 45.69% in 2022. The company has experienced higher processing costs and foreign exchange losses as its TPV skyrocketed. Following this trend, in 2Q23, the gross margin stood at 44.1%. I think this trend is worrisome as, at some point, the operating leverage won't be enough to hold a compressing contribution margin; moreover, there could be a chance that the top 10 customers (which accounted for 50% of FY22 revenue) are using its bargaining power to get better services at the same price.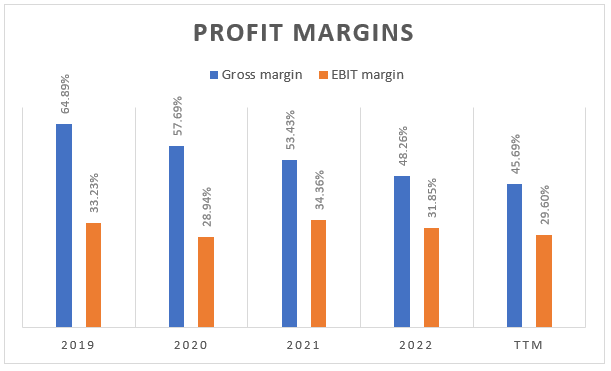 Lastly, dLocal is an asset-light model business which, along with its competitive advantages, allows it to enjoy high returns on capital. However, the ROIC has been decreasing since 2020, and it's too soon to state if the company can maintain this high ROIC over the years. Even so, given its current competitive advantages, I believe it will retain its ROIC at least in the next couple of years, but further decreases in gross margin could reduce it.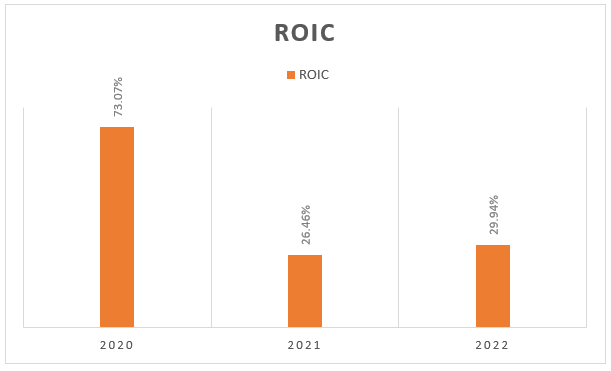 Risks
Argentina Lawsuit
A class action lawsuit has been filed against dLocal. The lawsuit alleges that dLocal made "materially false and misleading statements" about its business and operations, including compliance with Argentine law. Specifically, the lawsuit alleges that dLocal engaged in improper currency exchange transactions violating Argentine law, made false statements about its compliance with Argentine law, and failed to disclose that it was under investigation by Argentine authorities.
The lawsuit seeks damages for investors who purchased dLocal shares between May 2, 2022, and May 25, 2023. The lawsuit is still ongoing, and it is not yet clear what the outcome will be. In addition to the allegations in the lawsuit, dLocal has also faced scrutiny from Argentine regulators. In June 2023, the Argentine customs agency raided the offices of Academiland LLC, suspected of using dLocal's payment network to commit fraud. The Argentine government alleges that Academiland LLC was using dLocal to illegally access US dollars and transfer them out of the country. dLocal has denied all of the allegations against it. The company has stated that it is cooperating with the Argentine authorities and is confident that it will be able to clear its name.
It is unclear what the long-term impact of the lawsuit and the regulatory scrutiny will be on dLocal. However, the company's stock price has fallen significantly since the allegations were first made public. Moreover, the company has an open lawsuit against a class action owing to misrepresentation and omission in its IPO documents.
Competition
Even though dLocal has solid competitive advantages and the industry will grow at a high single-digit rate, the competition remains. It may take actions to grow faster than competitors through a continuous decrease in fees (which is a crucial factor for end consumers) or a broader partnership network. Moreover, the loss of trust by merchants due to lawsuits, a weak compliance system, or security issues may lead to the loss of clients, as they perceive their payments are at risk. Nonetheless, I think dLocal is a reliable partner as it's the number one choice for the biggest companies in the world. Furthermore, stealing customers in the industry is tough, as merchants may be reluctant to change from a provider as they will have to carry out all the due diligence processes, may lose the current level of customization, and may experience disruptions.
Banking Threat
Even if banks have lagged in the cross-border payment industry, they are unwilling to allow Fintech to dominate the market. Corporate clients tend to have more trust in banks when it comes to large business transactions. In addition, they have better access to FX markets and the SWIFT system, which is implementing improving solutions for cross-border payments, such as SWIFT gpi and SWIFT Go.
Governance Risk
dLocal has a dual-class stock structure in which the founders concentrate 80.51% of the voting power while they have an economic interest of 45.26%. This structure gives them too much power relative to minority shareholders. As a consequence, minority shareholders cannot have an essential influence on the principal company decisions, which makes it harder to steer the company to a new strategy in case the current one doesn't work. Nonetheless, in my opinion, the founders also have skin in the game, and their growth strategy and management team selection have been ideal for dLocal as the company continues to grow and expand to new geographies. In addition, the amount of related party transactions is almost negligible.
Currency Risk
The firm operates in a multi-currency environment, and changes in the exchange regimes have affected the sales in 2Q23. In fact, the devaluation of Nigerian Naira generated a negative impact of ~$6 million in revenue. Moreover, the company has to adapt quickly to changes in the regulations of FX markets in all its geographies.
Political Risk
dLocal is a payments company that operates in emerging markets, primarily Brazil, Mexico, Argentina, and Chile. The company is exposed to political, regulatory, economic, and social risks in these countries. For example, the Argentine economy has historically experienced high inflation rates, which could adversely affect dLocal's business. In addition, Brazil has experienced recent economic and political instability, which could also adversely affect dLocal. The Mexican government exercises considerable influence over many aspects of its economy, which could also impact dLocal's business. Finally, in Chile, political, legal, regulatory, and economic uncertainty arising from social unrest and the resulting social reforms and the enactment of Chile's new constitution could adversely impact dLocal's business.
Valuation
For my DCF analysis, I will assume that the company will have revenue equal to $645 million in 2023. The revenue growth rate will decrease as the company ends its hypergrowth phase and consolidates in existing emerging markets. Given the gross margin compression, I will use a lower gross margin than 2Q23. The EBIT margin will be lower than 30%; however, it may improve if the company continues to rely on operating leverage. To reflect the current risks, I think a discount rate of 18% is appropriate for the case, especially given the lawsuits and a possible loss of trust from merchants. Finally, the terminal value will be a P/FCF of 15, so I'll expect a significant multiple compression in the coming years.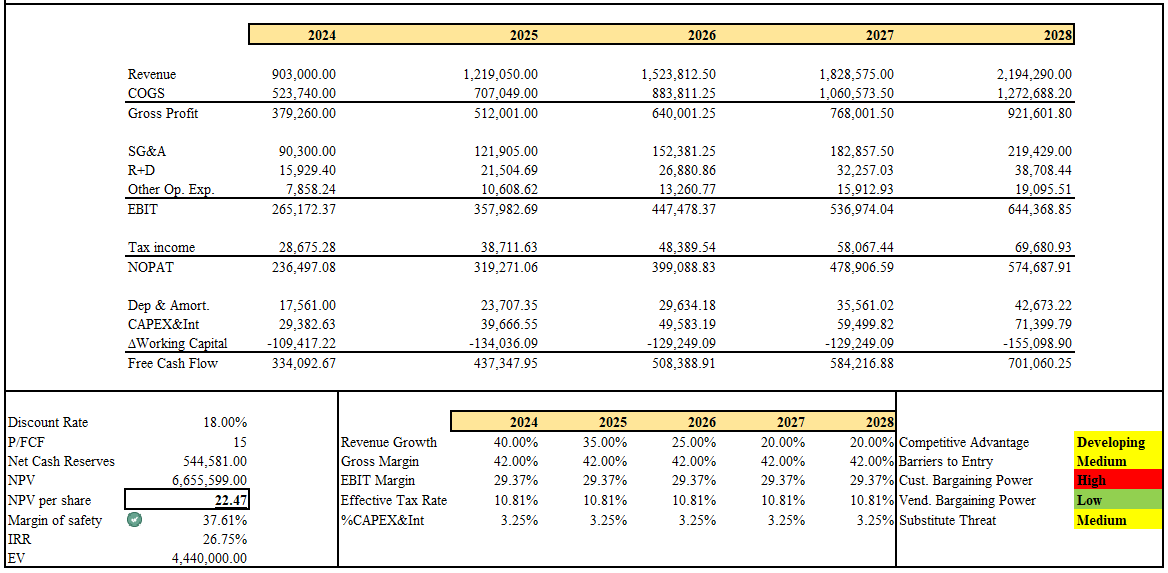 dLocal is a 'Buy' with a margin of safety higher than 30, given the premises of my DCF analysis. Nevertheless, a significant portion of the FCF generated will come from changes in the operating working capital, as the company has a negative working capital. Consequently, the model is highly sensitive to changes in the activity ratios in the future. Nevertheless, lower profit margins, together with a low multiple and a wide margin of safety, protect against downside risk, in my opinion.
Conclusion
dLocal is a cross-border payment processor with a strong competitive advantage in emerging markets. Despite risks associated with political, regulatory, and currency fluctuations, the company has demonstrated a successful growth strategy and management team selection. Our expert recommends a "Buy" rating with a margin of safety higher than 30%, given the premises of the DCF analysis. With over 900 local payment methods, dLocal offers a simple, scalable, and secure solution for merchants to accept and make payments in over 40 emerging markets.