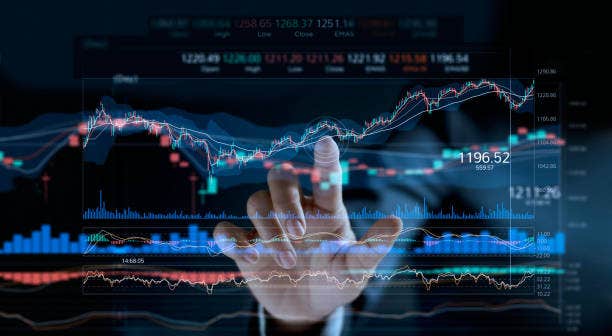 Gainers
Cellectis S.A.

CLLS

shares jumped 136% to $2.2799. Cellectis reported strategic collaboration and investment agreements with AstraZeneca. Cellectis also presented pre-clinical data on multi-armored allogeneic MUC1-CAR T-cells targeting triple-negative breast cancer at the Society for Immunotherapy of Cancer 38th Annual Meeting.
Patriot Transportation Holding, Inc.

PATI

climbed 104.8% to $15.73. Patriot Transportation announced an agreement under which United Petroleum Transports will acquire all of the outstanding shares of Patriot common stock for $16.26 per share in cash.
Aldeyra Therapeutics, Inc.

ALDX

gained 33% to $2.2780. Aldeyra Therapeutics entered into an exclusive option agreement with AbbVie Inc.
ShiftPixy, Inc.

PIXY

climbed 30% to $6.82.
Monopar Therapeutics Inc.

MNPR

shares rose 29% to $0.5782. Monopar presented data showing tumor reduction benefit of camsirubicin from ongoing Phase 1b in patients with advanced soft tissue sarcoma at the 2023 Connective Tissue Oncology Society Annual Meeting.
TG Therapeutics, Inc.

TGTX

climbed 26.8% to $9.80 following third-quarter results.
MSP Recovery, Inc.

LIFW

gained 25% to $3.08. On Monday, the company announced that it is in compliance with all applicable Nasdaq listing standards.
ZyVersa Therapeutics, Inc.

ZVSA

climbed 20% to $0.0984. ZyVersa Therapeutics announced publication in molecular neurobiology reinforcing data demonstrating that inflammasome ASC inhibitor IC 100 attenuates the inflammatory response causing neuronal damage in multiple sclerosis model.
EUDA Health Holdings Limited

EUDA

rose 18.6% to $1.02.
GDEV Inc.

GDEV

shares gained 16.2% to $2.35 after falling 11% on Tuesday.
Maison Solutions Inc.

MSS

climbed 14.5% to $6.31.
Generac Holdings Inc.

GNRC

gained 13.7% to $95.60 following upbeat earnings.
Mercury General Corporation

MCY

gained 13.5% to $35.04 following quarterly results.
Davis Commodities Limited

DTCK

rose 13.4% to $4.1850.
Newmark Group, Inc.

NMRK

gained 13.4% to $6.44 following strong quarterly results.
The Scotts Miracle-Gro Company

SMG

rose 11.8% to $49.70 following upbeat results.
Mercurity Fintech Holding Inc.

MFH

surged 11.4% to $0.9950.
Garmin Ltd.

GRMN

gained 10.4% to $113.16 after the company posted upbeat third-quarter results and raised FY23 guidance.
Frontdoor, Inc.

FTDR

climbed 10.2% to $31.89 following strong results.
Assurant, Inc.

AIZ

rose 10.2% to $164.09 following third quarter results.
Sientra, Inc.

SIEN

shares climbed 10.1% to $0.7049. Sientra shares fell 56% on Tuesday after the company withdrew its FY23 guidance and reported interim third-quarter financial results.
Apollo Global Management, Inc.

APO

gained 10% to $85.17 after reporting third-quarter results.
Plus Therapeutics, Inc.

PSTV

shares rose 9% to $1.34 after the company reported third-quarter financial results and announced a share repurchase program.
The Chefs' Warehouse, Inc.

CHEF

gained 9% to $20.74 following strong sales.
Losers
WeWork Inc.

WE

shares dipped 51.5% to $1.1050 following reports that the company is nearing bankruptcy.
CohBar, Inc.

CWBR

fell 48.2% to $0.91. CohBar said on Nov. 1, it got termination notice from Morphogenesis, effective Nov. 1 and merger agreement was terminated in accordance with terms.
IRIDEX Corporation

IRIX

fell 44.2% to $1.83. Iridex has withdrawn its previously announced annual guidance for 2023 and plans to provide additional information during its third-quarter earnings release based on the information available at that time.
Tempo Automation Holdings, Inc.

TMPO

shares fell 37.8% to $0.0516 after dipping 30% on Tuesday.
Paycom Software, Inc.

PAYC

fell 37.2% to $153.96. Paycom Software reported worse-than-expected third-quarter sales results and issued FY23 revenue guidance below estimates.
Kintara Therapeutics, Inc.

KTRA

fell 30% to $0.5205.
MasTec, Inc.

MTZ

fell 23.2% to $45.63 following weak sales.
Lumen Technologies, Inc.

LUMN

dipped 23.2% to $1.1200 following weak earnings.
Astec Industries, Inc.

ASTE

declined 21.6% to $31.40 following downbeat results.
Motus GI Holdings, Inc.

MOTS

fell 22% to $0.4678. Motus GI said 1-for-15 reverse stock split, will begin trading on split-adjusted basis Nov. 2.
The Estée Lauder Companies Inc.

EL

dipped 20.5% to $102.35 following its first quarter results and lackluster outlook.
G1 Therapeutics, Inc.

GTHX

fell 18.8% to $1.3397 following weak results.
Tonix Pharmaceuticals Holding Corp.

TNXP

shares fell 18.2% to $0.4825 after the company reported topline results from Phase 2 proof-of-concept study of TNX-601 ER for the treatment of major depressive disorder.
Conduent Incorporated

CNDT

dropped 17% to $2.6490 following weak earnings.
Yum China Holdings, Inc.

YUMC

shares fell 16.9% to $43.67 after the company reported worse-than-expected financial results for its third quarter.
Match Group, Inc.

MTCH

declined 16.2% to $29.00 after reporting third-quarter results and issuing fourth-quarter guidance.
Big 5 Sporting Goods Corporation

BGFV

shares fell 14.6% to $6.02 after the company reported weaker-than-expected results for its third quarter.
Extreme Networks, Inc.

EXTR

dipped 14.6% to $17.62 after the company reported first-quarter financial results and issued second-quarter guidance below estimates.
Bally's Corporation

BALY

fell 14.4% to $7.81 following downbeat results.
Silicon Laboratories Inc.

SLAB

fell 14.2% to $79.13 after the company reported third quarter financial results and issued fourth-quarter guidance.
Fresh Del Monte Produce Inc.

FDP

declined 13.3% to $21.67 following downbeat results.
Puyi Inc.

PUYI

fell 12.7% to $6.29.
TPG RE Finance Trust, Inc.

TRTX

declined 12.3% to $4.83 following weak results.
SunCoke Energy, Inc.

SXC

fell 11.7% to $8.40 following third-quarter results.
Paylocity Holding Corporation

PCTY

dropped 10% to $161.41.
Canada Goose Holdings Inc.

GOOS

dipped 10% to $9.99 following quarterly results.
SiteOne Landscape Supply, Inc.

SITE

fell 9.7% to $124.32 following weak earnings.
Unum Group

UNM

fell 8.3% to $44.82 following weak sales.
SunPower Corporation

SPWR

fell 7.8% to $3.9350 following quarterly results.
BAIYU Holdings, Inc.

BYU

fell 7.7% to $1.9201 after dipping 19% on Tuesday.
Synaptics Incorporated

SYNA

fell 7% to $77.90.
Now Read This: Ethereum Falls Below $1,800 Following ADP Report; Gala Becomes Top Loser
---