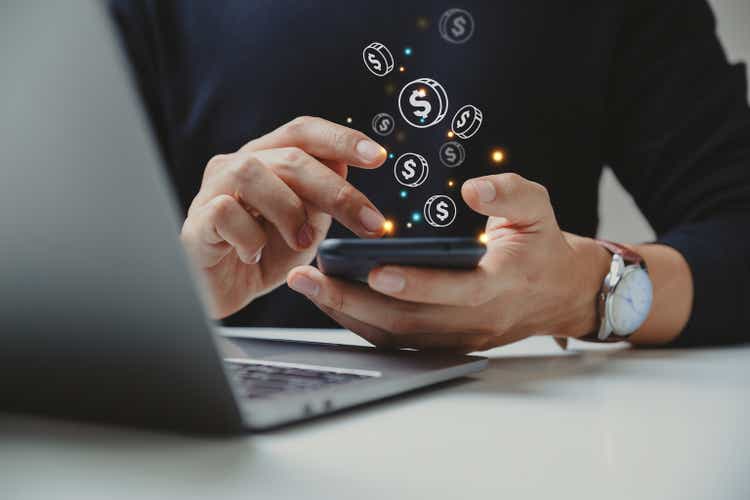 SoFi Technologies Inc. (NASDAQ:SOFI) is going to show its quarterly earnings on October 30, 2023 and I think the fintech is poised for a robust earnings report that could lead to a substantial profit beat as well as new momentum for SoFi Technologies' stock.
The reasons why I am now more bullish on SoFi Technologies before the release of third quarter earnings is threefold:
Member growth momentum was likely sustained in the third quarter;
Student loan payments resumed in October, presenting the fintech with a solid kicker for profit growth; and
SoFi Technologies might raise its guidance for 2023 (for the third time this year).
With the stock falling back to $7.40 and selling for a much more moderate P/S ratio, I think the risk/reward is promising.
My Rating History
My stock classification evolved from Sell to Hold in the last quarter because SoFi Technologies is moving closer towards GAAP profitability which changed investor sentiment for the positive.
My thoughts are described in more detail in Sofi Technologies: Seeking GAAP Profitability (Rating Upgrade). With that being said, what held me back was SoFi Technologies' high sales multiple.
SoFi Technologies' multiple has substantially compressed again lately and I think that the fintech has substantial profit surprise potential.
Profit expectations Might Be Easy To Beat
The market models an $0.08 per share loss for SoFi Technologies' third quarter, results of which are going to be presented to investors on October 30, 2023.
Profit expectations are neither particularly high nor low and SoFi Technologies has a favorable profit beat history: In the last eight quarters, SoFi Technologies surpassed expectations 7 out of 8 times and it met profit expectations once. The average profit beat was $0.026 per share since 3Q-21. SoFi Technologies' stock skyrocketed after 2Q-23 earnings and the stock has consolidated pretty much ever since.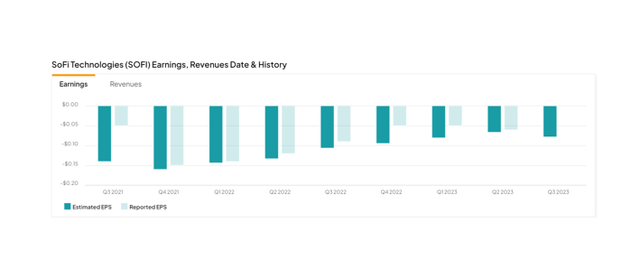 Member Growth, Student Loans, Potential For New 2023 Guidance
My expectations for SoFi Technologies' member growth are bullish before the fintech reports earnings at the beginning of next week simply due to the fact that the fintech has added a boatload of new members in the first six months of the year and I don't see how this growth could have come to an abrupt end in the third quarter.
Also, the momentum is clear and appears to be sustainable: SoFi Technologies added more than one million members to its membership base in the first half of the year and momentum gained steam in the second quarter with close to 600K member additions.
In the last four quarters, SoFi Technologies added an average 480K new members. Based on this net growth rate in members, the fintech might report 6.72 million members at the end of September.
Taking into account that the fintech grew its members at a stunning 44% rate in the last quarter, YoY, I would expect this momentum to have continued in third quarter.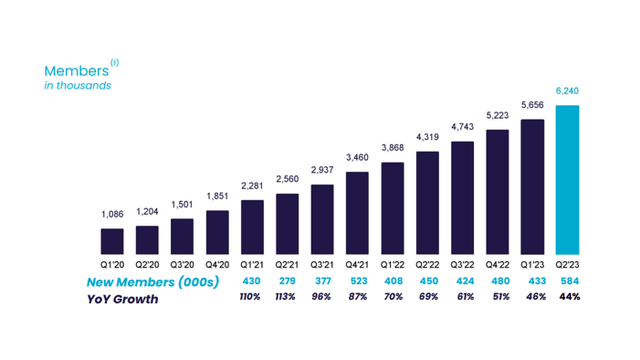 SoFi Technologies Might Raise Its Guidance As Student Loan Payments Resume
With student loan borrowers now being required again to make loan payments, SoFi Technologies is moving towards a profit catalyst. As a consequence, clear visibility into new student loan borrowings could trigger a more optimistic outlook for 2023.
SoFi Technologies already raised its guidance twice in 2023 and we could see the third consecutive raise in guidance next week, the odds of which I think have increased with the end of federal aid for student loan borrowers.
The fintech sees $1,974 million to 2,034 million in net sales this year whereas at the beginning of the year SoFi Technologies planned only with $1,925 million to $2,000 million in net sales.
With the pause on student loans expiring, millions of borrowers now have to make payments again. I see this as a catalyst for SoFi Technologies student loan business which essentially was put on hold ever since the pandemic.

Attractive Multiple Ahead Of 3Q-23
The market presently models $2.02 billion in sales this year, reflecting 31.3% growth compared to the prior year. The P/S ratio for SoFi is presently 3.4x (based on 2023 sales).
Affirm Holdings Inc. (AFRM) is selling at 2.6x sales, the stock of PayPal Holdings Inc. (PYPL) is available for 2.0x sales. Upstart Holdings Inc. (UPST) sells for 3.7x sales. Affirm Holdings' sales are expected to grow 23.1% in 2023 whereas estimates call for just 2% growth for PayPal Holdings. Affirm Holdings is actually expected to see a 37% sales decline. From a growth and valuation multiple combination, I think that SoFi Technologies offers the best package.

What Are The Risks For SoFi Technologies?
Even though the stock multiple of SoFi Technologies has compressed quite a bit prior to 3Q-23, this doesn't mean that the stock price can't head lower if the fintech disappoints in terms of its member growth trajectory or guidance for 2023.
The sales multiple, in my view, makes a lot more sense than it did when the fintech's valuation soared after 2Q-23 results. The risk/reward ratio, prior to 3Q-23, looks favorable.
My Conclusion
In just a couple of days, SoFi Technologies is going to report quarterly earnings for 3Q-23 and I think the odds are not only in favor of a profit beat, but a robust earnings release that could breathe new life into the stock.
I have been wrong about SoFi Technologies last year, particularly as it related to the fintech's ability to move towards GAAP profitability, but I think the risk/reward ratio today is much more compelling than a year ago, or even three months ago.
The restart of student loan payments, which might trigger a third consecutive raise in the fintech's guidance for 2023, could be a catalyst for SoFi Technologies' stock price also.