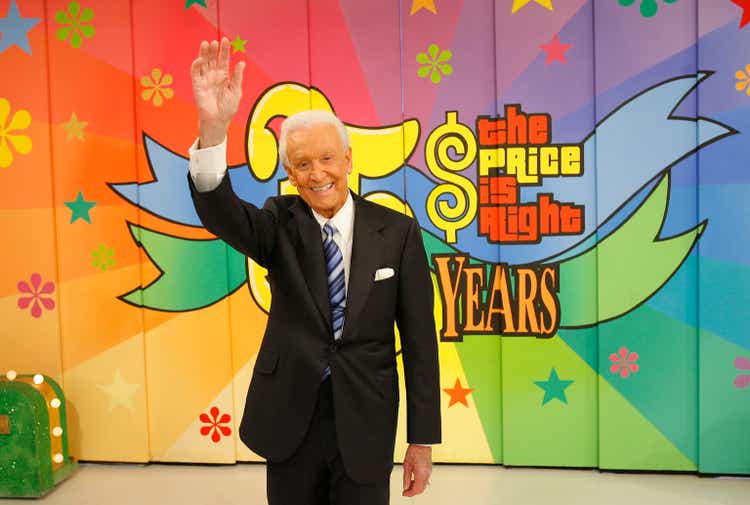 An icon of American television, Bob Barker, sadly passed away this month. Although younger generations may not be familiar with him, Barker was a legendary host of the popular game show, 'The Price Is Right', which captivated audiences for decades.
Bob Barker was part of the greatest generation, having been born in 1923. He led an eventful life, even training as a fighter pilot in the United States Navy Reserve. While his military service kept him from combat, the experience left an indelible mark on him.
Aside from his military endeavors, Barker achieved academic success, graduating summa cum laude with a degree in economics. His knack for hosting game shows eventually led him to 'The Price Is Right', where he truly made his mark.
Come on Down! You're the Next Contestant on 'The Price Is Right'!
But enough about Bob Barker's remarkable career. Let's talk about the exciting world of 'The Price Is Right' and the chance for you to be a contestant on the show!
Did you know that Bob Barker was not the original host of 'The Price Is Right'? When producers hired him in 1972, the show found its voice and enjoyed continued success for many years after Barker's retirement.
Barker's journey in broadcasting began even before his hosting gig on 'The Price Is Right'. Starting with a job at a Florida radio station, Barker quickly gained recognition for his smooth delivery. This led to his own radio program and eventually his first game show hosting opportunity on NBC's 'Truth or Consequences' in 1956.
While some sources may differ on the details, there's no denying the lasting impact Bob Barker had on 'The Price Is Right'. His charm, wit, and ability to engage with contestants made the show a household favorite for many years.
And the Actual Retail Price Is…
Now that we've explored the legacy of 'The Price Is Right' and its beloved host, let's shift our focus to some exciting Real Estate Investment Trust (REIT) opportunities!
The Price Is Right Means a Margin of Safety
As legendary investor Seth Klarman once said, a market downturn is a true test of an investment philosophy. REITs, with their wide investment spreads, are becoming increasingly attractive in today's market.
One REIT worth considering is Crown Castle (CCI), the largest provider of shared communications infrastructure in the U.S. Their extensive portfolio of cell towers and fiber networks makes them a critical part of our connected society. With strong financial metrics and a solid dividend yield, Crown Castle offers stability and potential for growth.
Crown Castle (CCI)
Crown Castle owns and operates over 40,000 cell towers, 120,000 small cell nodes, and 85,000 miles of fiber. The company provides essential communication infrastructure services, serving major tenants like AT&T, T-Mobile, and Verizon Wireless. With investment-grade ratings and a discounted valuation, Crown Castle is a compelling investment opportunity.
Highwoods Properties (HIW)
Highwoods Properties specializes in office properties located in the thriving Sunbelt region of the U.S. With a focus on high-quality markets and strong tenant relationships, Highwoods has built a portfolio of attractive office properties. Trading at a significant discount to its net asset value and offering a generous dividend yield, Highwoods Properties presents an enticing investment proposition.
Safehold (SAFE)
Safehold is a unique REIT that specializes in ground leases. The company owns the land underlying commercial properties and benefits from long-term lease agreements. With a strong balance sheet and a deeply discounted valuation compared to its historic levels, Safehold represents an opportunity for investors seeking a margin of safety.
Orion Office REIT (ONL)
Orion Office REIT focuses on acquiring and managing office properties in suburban markets across the U.S. With a diverse portfolio of single-tenant properties and attractive lease terms, Orion offers an intriguing investment option. Trading at a discounted valuation compared to its peers and estimated net asset value, Orion Office REIT has the potential for long-term appreciation.
Medical Properties Trust (MPW)
Medical Properties Trust specializes in healthcare real estate, particularly net-leased hospitals. With a vast portfolio of medical properties both domestically and internationally, Medical Properties Trust benefits from the stability of the healthcare industry. Despite recent challenges, the stock trades at an attractive valuation and offers a high dividend yield.
In Closing…
While Bob Barker left an unforgettable legacy in the world of television, REITs present an exciting opportunity for investors. With their potential for price appreciation and attractive dividend yields, these selected REITs offer a margin of safety in today's market.
Remember, investing involves risks, and it's important to conduct thorough research before making any investment decisions. But just like being a contestant on 'The Price Is Right', taking calculated risks can lead to great rewards.